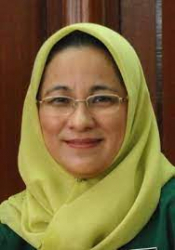 Biography
Khatijah Mohd Yusoff joined the academic fraternity of University Putra Malaysia as a lecturer and was promoted a full Professor in 2001. During her tenure she was at the helm of various administrative responsibilities, including as Dean of Faculty of Biotechnology and Biomolecular Sciences, and as Deputy Vice-Chancellor (Academic & International Affairs). In 2008, she was seconded to the Ministry of Science, Technology and Innovation Malaysia, serving as the Deputy Secretary-General (Science). Khatijah is currently a Senior Fellow and Council member of the Academy of Sciences Malaysia (ASM), Vice-President of the Islamic World Academy of Sciences (IAS) and Vice-President of The World Academy of
Sciences (TWAS). She also sits on the Council of Scientific Advisers of the International Centre for Genetic Engineering and Biotechnology (ICGEB). She previously sat on the Board of Trustees of International Livestock Research Institute (ILRI), SEAMEOBIOTROP
Governing Board, Advisory Board for La Trobe Asia, and the Technical Advisory Panel for COMSATS as well as several companies and organisations in Malaysia. In 2010, she was awarded DSc (honoris causa) by her alma mater, La Trobe University. As a researcher, Khatijah has been a pioneering figure at the forefront of elucidating the molecular biology of Newcastle disease virus (NDV) as well other microbes. She has supervised many postgraduate students, published significantly with several patents under her name. Her research and innovation have received great acclaim nationally and internationally. She was honoured by the Houghton Trust to deliver the 3rd Houghton Lecture in 2002 and was later accorded the UNESCO's Carlos Finlay Prize for Microbiology in 2005. In 2008, she received the Distinguished Alumni Award from La Trobe University. In 2014, she was identified as one of the top 20 most influential women in science in the Islamic World by Muslim-Science.com. In 2015, the nation consequently presented her with the prestigious Merdeka Award.