Linxiu Zhang
Professor and Deputy Director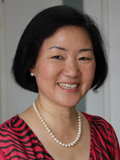 Biography
Linxiu Zhang is a professor and deputy director at the Center for Chinese Agricultural Policy (CCAP), Institute of Geographical Sciences and Natural Resources Research, Chinese Academy of Sciences (CAS). She obtained her PhD from Reading University in the U.K. In 2003 she was awarded the Outstanding Young Scientist Award by China National Natural Sciences Foundation (NSFC). 
In 2007 she won the Chinese Academy of Sciences "100 Talents" award.  She oversees a research programme on "Integrated Rural Urban Development Strategy and Policy" at CCAP. She is also the Co-director of a program named Rural Education Action Programme (REAP). REAP is an umbrella programme initiated by a group of scholars from Stanford University, the Chinese Academy of Sciences, Northwest University in Xi'an, Tsinghua University among others to address rural-urban gaps in the areas of healthcare and education.

Her own research focus is on poverty alleviation, rural land and labor market development, community governance, public investments and social protection in rural areas, and the economics of rural education and healthcare.