Mba Maadjhou Berjauline Camille
Consultant in diabetology/Lecturer of Epidemiology and Nutrition, Cameroon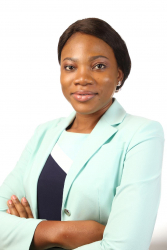 Biography
Camille has been working as a consultant in Diabetology at the Yaoundé Central Hospital, Cameroon, since 2021 where she consults and follows up outpatients with diabetes. She is also a Research Associate in the Health of Populations in Transition research group and her research interest is in the prevention of non-communicable diseases through modification of dietary and physical activity behaviours.
 
Camille holds an MD from Université des Montagnes in Cameroon, and a PhD in Epidemiology from the University of Cambridge. She also holds an MSc in Clinical Biochemistry and a Postgraduate Diploma from Harvard Medical School.
She lives in Cameroon. In her free time she enjoys watching movies and playing with her 6-month-old baby. Her special relaxing method is having deep conversations with people.