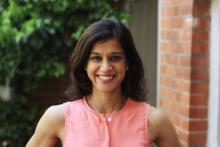 Biography
·  Pooja Merchant MD, MPH heads External Medical Affairs at Bayer, a life science company with a more than 150-year history and core competencies in areas of health and agriculture. Driven by her passion for improving healthcare, Pooja applies her expertise at Bayer to create shared value through partnerships with medical, public health and patient communities.
·   Bayer's mission 'Science for a Better Life' not only means a commitment to researching and developing innovative medicines, but also addressing unmet needs by truly understanding the customer.  Pooja has been driving a concerted effort around patient engagement in order to continue to deliver on this mission.
·  After completing her Medical studies from India, Pooja earned a degree in Epidemiology at Columbia University and worked at the NYC Department of Health researching HIV/AIDS care in the transgender population. In her previous roles at Bayer, she has provided clinical expertise to the Hematology portfolio and also gained experience in regulatory affairs and organizational/operational improvement.
·  Pooja is passionate about affecting social change, has recently run a marathon and aspires to continue to learn from new  experiences.