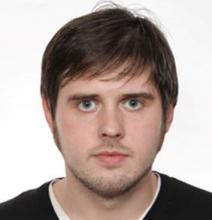 Biography
MOISEENKO Fedor V. (Russia)
Dr. Moiseenko graduated from St.Petersburg Medical University in 1999. During the University course he has started student research work which was primarily dedicated to the examination of the fundamental principles of carcinogenesis. During this period he passed a course of molecular gene technologies and cell culturing methods in IACR (Leon, France). Afterwards he finished clinical residency in St.Petersburg Medical Academy of postgraduate education and in 2007 became a specialist in medical oncology.
Being a medical doctor he continued participating in fundamental research works. This professional interest has moved him to the department of nanobiotechnologies in St.Petersburg Academic University RAS. Also since 2007 he became an assistant at the department of oncology in St.Petersburg Medical Academy of postgraduate education ñ the best research and clinical complex in North-West region of Russia.
Moving on in his scientific activities in 2007 he received PhD on the drug therapy of non-small cell lung cancer. Since that time he combined clinical work as a medical oncologist dealing with various types of solid tumors with fundamental research in Academic University.
The main field of interest along all this period was cancer research. In 2010 he became a senior staff scientist and until now manages number of projects which are held in Academic laboratory. Among them are the investigations of the role of gap junctions in the formation of solid tumors, the development of new high-through out put methods of molecular gene research, various types of translational trials.