Moses O. Ogutu
Mirzayan Science and Technology Policy Fellow (c/o U.S. National Academy of Sciences, Washington, DC)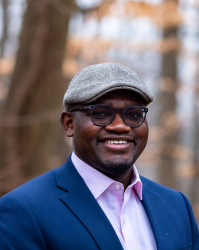 Biography
Moses is a Mirzayan Science and Technology Policy Fellow at the U.S. National Academy of Sciences in Washington, DC. As a Fellow, he provides research and programmatic support to IAP, the Science and Engineering Capacity Development theme, and the Global Science Diplomacy Roundtable. 
His experience includes working on projects related to Public Policy and Governance in Africa, International Business and Trade Policy, EU/US/China – Africa relations, Social Innovation and Entrepreneurship, and Leadership Development in Africa. He was most recently an Assistant Professor at the African Leadership University, Rwanda, where in addition to teaching courses in International Business and Trade, he provided strategic mentorship to start-ups and young enterprises using digital technology to solve some of Africa's pressing challenges in sectors such as agriculture, education, health, climate change, and the circular economy. 
Moses has an MA in International Relations with a specialization in EU – Africa relations, and a Master of Philosophy in Inclusive Innovation Research and Practice, with a thesis exploring how formative years prepare individuals for social change leadership, both from the University of Cape Town. He was also a Graduate Fellow at UMass Amherst, where he studied Political Economy and Global Health. He is a Mandela Rhodes Scholar (2017), a Dalai Lama Fellow (2019) at the University of Virginia, and a Bertha Scholar (2020) at the University of Cape Town.