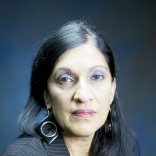 Biography
Caribbean Academy of Sciences; Faculty of Science and Agriculture, University of the West Indies, St. Augustine Campus, Trinidad & Tobago
Specialization: Biosafety, Biothreat agents, Biohazards, Biorisk management, Bioethics
Employment Organisation: Department of Food Production, Faculty of Science and Agriculture, University of the West Indies, St. Augustine, Trinidad and Tobago
Since 2011, Neela Badrie is has been serving as professor and researcher in the Department of Food Production, Faculty of Food and Agriculture, University of the West Indies, St. Augustine, where she has also served as head of department, deputy dean of research and innovation and acting dean.
She is an attorney-at-law, qualified since 2019 to practice law at the bar of the Supreme Court of Trinidad and Tobago. She received her postgraduate diploma in Legal Practice, School of Law, Policing and Forensics, Staffordshire University, UK, in 2018; her Bachelor of Laws, LLB, University of London, in 2017; and since 2007 is a certified internal auditor of food safety management systems.
She received her PhD in food science in 1990 from the Faculty of Engineering, UWI, St. Augustine, Trinidad and Tobago, becoming the first female to be awarded a PhD in it, the Food Technology Unit,  Department of Chemical Engineering.
Her research focuses on food and environmental microbiology, agri-food safety and risk analysis, epidemiology and food-borne diseases, biotechnology, international trade and food legislation, food quality and assurance, food/bio-terrorism/biological threats, food fraud, food science and technology and functional foods, food sanitation and processing. She has authored more than 100 publications in refereed journals.