Nikoletta Szabo
Contacts
szabo.nikoletta@med.u-szeged.hu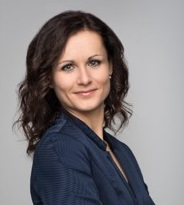 Biography
Dr. Szabó is a Senior Lecturer at the Department of Neurology at the University of Szeged. In this position in addition to her clinical duties she is involved in the teaching of medical students, the supervision of resident doctors and PhD students as well as the organization of teaching courses for fellow medical doctors. She is also a postdoctoral researcher of the Neuroimaging Research Group (Szeged, Hungary) and the Central European Institute of Technology (Brno, Czech Republic).

Dr. Szabó obtained an MD from the University of Szeged in 2009 and a PhD from the same institution in 2014. In 2017 she received a Neurology board certificate from the Hungarian National Examination Board.

She has won several fellowships, scholarships and grants such as the Bólyai János Scholarship of the Hungarian Academy of Sciences in 2015, and educational bursary of the International League Against of Epilepsy in 2017, the Jelencsik Ilona Award for Headache Research in 2017 and an EU Horizon2020 RISE grant for 2017-2021.

As a practicioner in the neurology department she has helped start a new stroke protocol and establish the imaging background. She is also working the creation of a "Stroke Team" at the Department that will connect the hospital to other clinics involved in stroke care. One of the most recent collaborations involves also international partners such as the Chinese Stroke Society.

Beyond clinical work, Dr Szabó has experience in planning and organising pre-clinical and clinical projects, congresses and is regularly an invited speaker on scientific and clinical conferences.

Through her work Dr. Szabó calls attention to stroke primary prevention, like organising Stroke Day (2019) and gives interviews on primary prevention of stroke for public media.