Nishant Chakravorty
Contacts
nishant@smst.iitkgp.ac.in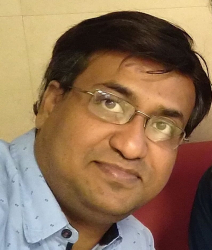 Biography
Dr. Nishant Chakravorty is a faculty member at the School of Medical Science and Technology (SMST), Indian Institute of Technology Kharagpur (IIT Kharagpur). He leads the Regenerative Medicine lab at SMST. With his background in medicine and technology, he explores various human pathophysiological conditions and attempts to identify clinically relevant translational solutions using the principles of regenerative medicine. His research interests include diseases like beta-thalassemia, osteoporosis and osteoarthritis.
Dr. Chakravorty attained his MBBS (Bachelor of Medicine and Bachelor of Surgery) degree from Patna Medical College, India (1999-2004) and completed his clinical internship from the same institute (2005-2006). Subsequently, he went to UK in 2006 and did Clinical Attachments in Medicine and Accident & Emergency at Good Hope Hospital, Sutton Coldfield, UK. Following this, Dr. Chakravorty returned to India and joined Masters in Medical Science and Technology (MMST) at India's premiere technology institute, IIT Kharagpur (2007-2010). MMST is a unique and one-of-its kind post-graduate program which has been exclusively designed for MBBS graduates. During his course of study, he also completed a research internship at Banting and Best Department of Medical Research, University of Toronto. He was awarded the Institute Silver Medal in 2010 for being adjudged the best student in the order of merit during MMST. Dr. Chakravorty completed his doctoral studies from Queensland University of Technology (2010-2014). His PhD thesis was awarded the Outstanding Doctoral Thesis Award - Executive Dean's Commendation Award, by Science and Engineering Faculty, Queensland University of Technology.
Dr. Chakravorty is actively engaged in teaching courses like MMST, MTech courses in Biomedical Engineering and in Medical Imaging and Informatics, MSc-PhD courses in Medical Molecular Microbiology, Medical Physics and Nuclear Medicine. He is thus actively engaged in catering to the changing landscape of medical education of India. He supervises several postgraduate and PhD research projects. As a physician, he extended his services to COVID-19 patients of his institute via teleconsultation. He is also one of the Program Officers for National Service Scheme (NSS) and has organized several medical camps in rural parts of India.
Dr. Chakravorty is a selected Member of the Indian National Young Academy of Sciences (INYAS) and has been actively engaged in INYAS' COVID-19 vaccination awareness campaign. He was a part of the team that released documents containing myths and facts about the vaccines in 11 different languages, launched a mobile application named COVACNEWS for ensuring information at the fingertips, and has been co-hosting GYANTEEKA – webinar series dedicated to increase awareness about vaccines. He is also a Member of The Royal Society of Biology (UK).