Mayowa Ojo Owolabi
Contacts
mayowaowolabi@yahoo.com
mayowaowolabi@gmail.com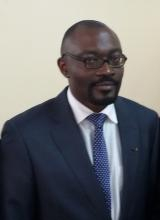 Biography
OWOLABI Mayowa (Nigeria)
Mayowa Owolabi, MB, BS, Dr.med. magna cum laude (Berlin), MWACP, FMCP, Cert. Epid & Glob. Health (IPRI-Dundee) is a neurologist with extensive international training to share with his country, Nigeria. He received his Dr. med. degree at CharitÈ University of Medicine; Humboldt University and Free University, Berlin, Germany. He studied Epidemiology and Global Health at University of Dundee, Scotland, UK. He is a Senior Lecturer at University of Ibadan, Nigeria.
As a young and very innovative neurologist, he has over 100 scientific publications with attendant impressive readership, and several awards including the DAAD (German Academic Exchange Programme) research fellowship, 2008 American Academy of Neurology International Scholarship Award, American Academy of Neurology Palatucci Advocacy Leadership Award, WCNR Early Career Development Award, 2 Mac Arthur Foundation Research Grants, 3 National Institutes of Health Research Grants on stroke and a Consortium for Advanced Research Training in Africa grant on building of university-wide systems that support research in Africa. He is the winner of the 2011 AU-TWAS Young Scientist National Award (Earth and Life Sciences). His first landmark publication, ëMapping Africaís way into prominence in the field of Neurologyí, got the attention of the past President of the World Federation for Neurology (WFN), and has motivated the WFN, the European Federation of Neurological Sciences, the International Brain Research Organisation and the World Federation for Neurorehabilitation (WFNR) to make the development of neurosciences in Africa their top priority. Dr Owolabi has five inventions including the Stroke Levity Scale, Stroke Recovery Cycle and the Health-Related Quality of Life in Stroke Patients (HRQOLISP) instruments. To tame the stroke epidemic he proposed the stroke quadrangle comprising: surveillance, prevention, acute care, and neurorehabilitation services. He is a reviewer for 15 international journals including Neurology, Neurorehabilitation, Biomed Central, European Journal of Neurology, African Health Sciences, African Journal of Medicine and Medical Science, Annals of Neuroscience and Psychology and an editorial board member for 3 journals including World Journal of Neurology. He is a prolific member of several National and International learned societies including World Federation of Neurology, Global Alliance for Chronic Diseases-Hypertension Consortium NIH, American Academy of Neurology and American Heart Association.
Currently, he is a member of the Senate, University of Ibadan and a member of the management committees of the World Federation for NeuroRehabilitation (WFNR) and the European Federation of Neurological Sciences Regional Training Course for Africa.
As the first regional vice president of the WFNR, he pioneered the establishment of the First Neurorehabilitation Center in East, West and Central Africa (in collaboration with WFNR) of which he is the founding Director. The centre is positioned to serve a population of over 300 million people and is envisioned to set the pace in neurorehabilitation services, training, research, innovations and advocacy in Africa. The model of therapy is generated from the seed of life model (SOLM) which he propounded as a central concept for medical philosophy, medical humanities, logotherapy and holistic medicine.
The philosophy of the Neurorehabilitation Center is to give excellent holistic care, abundant life, and boundless love with extraordinary intuition, cre8tive innovations and untainted integrity. His drive to improve the quality of life and care is enormously praiseworthy.
He is the pioneering chair of the H3Africa cardiovascular diseases (CVD) Working Group harmonizing resources in the largest ever genomic epidemiological study of CVD in Africa with a sample size of over 50,000 subjects.
Building on his research efforts which spans vascular neurology and neuro-rehabilitation now expanding into community-based genomic epidemiology of stroke and vascular risk factors in Africa and globally, he is the pioneering chair of the Global Alliance for Chronic Diseases- Control UNique to CVD In LMIC(GACD COUNCIL) initiative. His interactions with local agencies including the Ministry of Health, Nigerian National Academy of Sciences, and their top functionaries and international consortia have led to my identification of gaps including an escalating burden of non-communicable diseases that afflicts LMIC, with meagre (10%) of global and research resources (facilities and personnel) that intends to tackle almost 90% of global disease burden, weak health financing systems, based mainly on out of pocket payment; most (if not all) available guidelines for the control of cardiovascular diseases which emanate from high income countries with evidence and recommendations drawn from these populations. Such recommendations may not be translatable and pragmatic for developing countries where practical guidelines are direly needed. COUNCIL Initiative is designed to urgently develop pragmatic guidelines with particular attention to LMICs including special comments on cost-effectiveness of interventions and emphasis on T4 (implementable policies) and T5 (global) translational phases.