Pradeep Kumar
Associate Professor, University of the Witwatersrand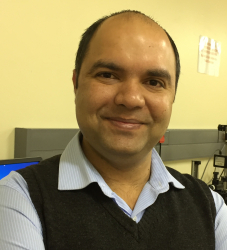 Biography
Dr. Pradeep Kumar is currently an Associate Professor of Pharmaceutics at Wits' Department of Pharmacy and Pharmacology, and Co-Director and Principal Researcher at the Wits Advanced Drug Delivery Platform (WADDP) Research Unit. Dr. Kumar has an experience of over 10 years in academic teaching and research with tissue engineering & regenerative medicine as research area of interest, molecular pharmaceutics and industrial pharmacy as academic core field, expertise and specialization in platform-based biomimetic neuro-trauma intervention, and cross cutting competency in molecular simulation and image processing. His PhD thesis was focused on the design and development of Polymer-Engineered Neural Devices for potential application in reducing neurological deficits after spinal cord injuries and was awarded the Wits Faculty of Health Sciences' Most Prestigious PhD Degree Award. He holds a Y1 rating from the NRF.
Dr. Kumar has been an active member of the Policy Influence Working Group of the South African Young Academy of Science (SAYAS) and is a proud member of the Global Young Academy (GYA) since 2020. Most recently, Dr. Kumar has been included in the OECD Global Science Forum's Scoping Group on the Research Precariat Project, has joined the Steering Committee of the ASSAf Scientific Advisory Group on Emergencies (SAGE), is appointed as the Research Portfolio Leader in the Gauteng Department of Health's Spinal Cord Injury Work Group, and is co-leading the Scientific Excellence Working Group in the GYA. As an Expert Group Member, he has proudly contributed to the IAP Statement on Regenerative Medicine published in 2021.
Dr. Pradeep Kumar has won a number of awards for his research, such as the Wits Health Consortium's Great Leap Forward Entrepreneurial Academic Award (2021), INGSA-Africa Science Advice diploma (2020), Friedel Sellschop Award (2019), ASRT Young African Researcher Award 2018 (Category: Health and Pharmaceutical Sciences), Mail & Guardian's Top 200 Young South Africans 2018 (Category: Science and Technology), Claude Leon Foundation Merit Award (2018), African-German Network of Excellence in Science (AGNES) Junior Researcher Grant (2018), and Wits Innovators Forum's First-time (2013), Prolific (2014) and International (2016) Inventor Awards.