Professor Mario Stefanini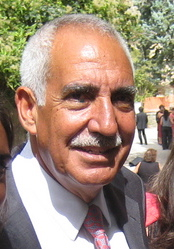 Biography
Professor Mario Stefanini was born in Rome on November 10th 1939. He studied medicine at the universities of Pisa and Rome 'La Sapienza'.  After taking his degree, he spent several years as a research scientist at the Institute of Medical Pathology  of the Sapienza University of Rome with Giuseppe A. Andres, and at the Department of Pathology of the University of California at Los Angeles (UCLA) with  Luciano Zamboni. In 1975 he was appointed professor of Histology and Embryology at the School of Medicine of the University of L'Aquila. From 1976 to 2010,  he was Professor at the Department of Histology and Medical Embryology of  the Sapienza University of Rome, and Head of the Department for several terms. He is now Senior Professor at the Sapienza University of Rome.
Dr Stefanini chaired the Sapienza University Ph. D. program on Cell Sciences and Technologies. He  has been member of the Scientific Research Committee and of the International Relationship Committee of the Sapienza University of Rome, the Board of the International Society for Developmental Biology (ISDB), the Executive Committee of the Inter Academy Medical Panel (IAMP) on behalf of the Accademia Nazionale dei Lincei, the Permanent Scientific Committee of the European Study Group for Molecular and Cellular Endocrinology of the Testis, the Committee for the School of Medicine of the Somalian National University,  the Addressing Committee of the Rome Foundation. He is currently President of the Medical  Academy of Rome, the National Committee for the Promotion of Italian Culture abroad of the Italian Department for Foreign Affairs, the Technical-Scientific Committee of the Rome Cancer Institute IFO-Regina Elena, the Health and Research Committee of the Rome Foundation. In 1998 he was elected member of the Accademia Nazionale dei Lincei.
As a research scientist in the field of Biology and Medicine of Reproduction he elucidated fundamental aspects  of the structural organization and functions of mammalian gametes and of the regulative mechanisms of mammalian gametogenesis. His research has characterized the ultrastructural aspects of gamete interactions at fertilization, has developed in vitro models to study the paracrine interactions among somatic and germ cells in the seminiferous epithelium and has visualized the presence and distribution of HIV in the testis and in ejaculated spermatozoa during HIV-1 infection. He is now studying the spermatogenesis and the biology of spermatogonial sperm cells in the rodents and in the human.
Dr Stefanini is author of over 100 original research articles. In 2005 he received the Premio Linceo for Biology awarded by the Accademia Nazionale dei Lincei.