Ricardo Paes de Barros
Undersecretary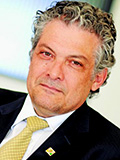 Biography
Dr. Ricardo Paes de Barros graduated in Electronic Engineering from the Technological Institute of Aeronautics – ITA in 1977. He concluded his masters in statistics at the Institute of Pure and Applied Mathematics – IMPA in 1982 and his PhD in Economy from the University of Chicago in 1987. He has two postdoctoral degrees, one from the Research Center in Economics, of the University of Chicago (1988) and another one from the Center of Economic Growth, of the Yale University (1989).
Since 1979 he has been working as a researcher at the National Institute for Applied Economic Research (IPEA), conducting researches in the fields of social inequalities, education, poverty and labor opportunities in Brazil and in Latin America.
Between the years of 1990 and 1996, he was a visiting professor at Yale University. Between the years of 1999 and 2002 he was IPEA´s director of Social Studies.
In the years of 1995 and 2000, he was awarded the Haralampos Simedionis prize. In 2000 he won the Mario Henrique Simonsen prize. In 2005 he was admitted to the National Order of Scientific Merit, as a Knight, and in 2009 he was elected as a Full Member of the Brazilian Academy of Sciences. Currently he is the Undersecretary of the Secretariat of Strategic Affairs of the Presidency of the Republic – SAE/PR.