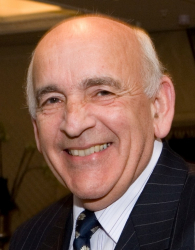 Biography
Emeritus Professor of Pharmacology, The William Harvey Research Institute, Queen Mary University of London, London, UK
Specialization: Preparedness and response, Biothreat agents
Rod Flower read physiology at the University of Sheffield, UK, and graduated with a first class honours degree in 1971.  He went to the Royal College of Surgeons of England for his postgraduate training with John Vane and was awarded his PhD by the University of London in 1974.
He worked with Vane and other colleagues for 11 years at the Wellcome Foundation in Kent before moving to the University of Bath to take up the Chair of Pharmacology in the School of Pharmacy and Pharmacology in 1985. In 1990, he moved to St. Bart's Hospital Medical School and together with Vane and other colleagues, founded the William Harvey Research Institute, serving as director from 2000-2004.
Flower has spent the majority of his scientific career working on eicosanoids, inflammation and anti-inflammatory drug mechanisms. His most significant work investigated the mechanism of action of the non-steroidal anti-inflammatory drugs (NSAIDs), the anti-inflammatory glucocorticoid steroids and (more recently) the cromone anti-allergic drugs.
Flower also has a continuing commitment to 'Science and Security' issues. He chaired the Royal Society's Scientific Aspects of International Security committee from 2006-2010 and has frequently collaborated with the US National Academy of Sciences and other organisations to review issues surrounding the misuse of science.
In this connection, he chaired the Royal Society's Brain Waves project dealing with neuroscience, conflict and security. He served on an advisory panel to the Organisation for Prohibition of Chemical Weapons from 2012-2014, and has chaired meetings in Beijing and Warsaw reviewing advances in biological sciences relevant to the Biological Weapons Convention. On behalf of the Royal Society, he also chaired a meeting in Geneva aiming to provide an effective vehicle for the input of science advice to the Biological Weapons Convention. Until recently, he chaired a scientific advisory panel dealing with the medical implications of less lethal weapons on behalf of the UK Ministry of Defence.
Flower was a Principal Fellow of the Wellcome Trust from 1994-2007 and was elected to fellowship of the Academy of Medical Sciences (1999) and the Royal Society (2003).  He was president of the British Pharmacological Society (2000-2003) has published over 350 papers and books. He has been awarded several national and international awards for his research including two honorary degrees, the Wellcome Gold Medal of the BPS and a 'Lifetime Achievement Award' of the International Association of Inflammation Societies (2005).