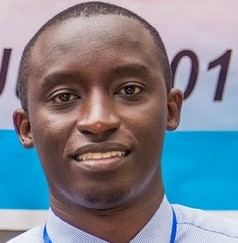 Biography
Dr. Mbiine is Lecturer of Clinical surgery at Makerere University-College of Health Sciences. His responsibilities include medical training of both undergraduate and postgraduate medical students in surgery as well as conducting surgical research in the unit. He is also a general surgeon working in the colorectal unit of Mulago National Referral and Teaching hospital.
Dr. Mbiine received a Bachelor of Medicine and Bachelors of Surgery (MBChB) in 2013 from Makerere University and a Master of Medicine in Surgery in 2017 from the same institution. He also received a certificate in Bone Marrow Transplant from the University of Illinois at Chicago in 2018.

Dr. Mbiine sits on the National executive council of the Association of Surgeons of Uganda. He has represented the surgical fraternity in Uganda at all fora including the United Nations General Assembly. He has also organized several scientific conferences for the Association of Surgeons of Uganda, the College of Surgeons of East Central and Southern Africa as well as an International workshop by the Association of Surgeons of Great Britain and Ireland. He is on the Scientific committee of the COSECSA, Association of Surgeons of Uganda, Makerere University College of Health Sciences, World Health Summit scientific committee among others. 

Dr. Mbiine is the front leader of the emerging MakGlobal surgery – a division of the department of surgery aimed at advancing global surgery in the region). He started the Center of Epidemiology of Surgical Diseases in Africa which is now evolving into the SERTA institute (Surgical Education, Research and Training in Africa). He has also repeatedly provided free surgical trainings throughout Uganda and is currently involved in the review and update of existing treatment guidelines in the field of surgery.