Roula Inglesi-Lotz
Professor, University of Pretoria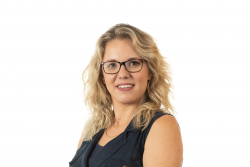 Biography
Professor Inglesi-Lotz is a Professor in the Department of Economics in the Faculty of Economic and Management Sciences at the University of Pretoria. Her research focuses on energy and environmental issues seeking answers to pressing issues associated with traditional ways of consuming and generating energy as well as investigating new and alternative solutions for higher efficiency in the consumption of energy and renewable fuels for generating energy.  
 
Prof Inglesi-Lotz has demonstrated her leadership skills by founding with other energy experts the South African Association for Energy Economics (SAAEE), the only recognized affiliate of the International Association for Energy Economics (IAEE) for South Africa. She was elected SAAEE President from 2018 to 2022. She is also elected the Vice President of the international body for Membership and Affiliate relations for 2021/22. 
 
She has been a member of the South African Young Academy of Sciences (SAYAS) since 2017 where she served as a co-chair in 2019/20 and was the editor of the SAYAS PhD blog giving a platform to the South African science youth to express their voice; and a member of the Global Young Academy (GYA) since 2018 and elected co-chair representing low – and middle – income countries for 2021/22.