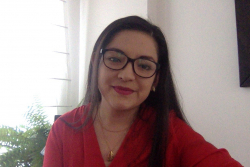 Biography
Dr. Jimbo-Sotomayor is the Medical School Vice Dean at Pontificia Universidad Católica del Ecuador, teacher in undergraduate and postgraduate programs and principal investigator in the Center for Health Research in Latin America (CISeAL).
Dr Jimbo-Sotomayor attended to Universidad Central del Ecuador where she obtained a Bachelor of Medicine in 2007. She has accomplished a Residency program in Family medicine (Pontificia Universidad Católica del Ecuador 2011), Master's degree in Health Administration (Universidad Técnica Particular de Loja 2016), Master's degree in Health Economics (Universidad Pompeu Fabra, 2017) and a PhD in Epidemiology and Public Health (Universidad de Alcalá de Henares, 2021).
As the Vice dean of the school of Medicine, she is the program coordinator for undergraduate and postgraduate programs, leader for certifications and accreditation of the career and collaborates with creation of new postgraduate study programs.
She has participated as a representative of the University for public entities in health issues such as the vaccination committee. She is a principal teacher for the undergraduate school of medicine, for the Family medicine Residency Program and the Master's in Health Economics and Health Administration.
As a researcher she works at the CISeAL (Center for Health Research in Latin America), Her work is focused on public health, mostly on vaccines. She has published many research studies on impact of the pneumococcal vaccine (PCV 10).
She has worked with United Nations Women in Science for promoting the participation of girls in scientific careers. She has recorded videos to promote the participation of women in science. She has also been a speaker in many conferences to show the importance of women in scientific activities.
She recently finished her PhD at Alcala's University in Spain in Epidemiology and Public Health with a Cum laude recognition and she was nominee for an extraordinary award because of the quality of the studies that she presented for the PhD.