Samuel Knauss
Clinician Scientist, Department of Neurology with Experimental Neurology, Charité Universitätsmedizin Berlin Germany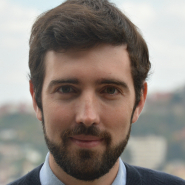 Biography
Dr. Samuel Knauss is as a clinician scientist at the Department of Neurology with Experimental Neurology of the Charité Universitätsmedizin Berlin, Germany. As a researcher he is leading Charité's Global Digital Health Lab and the Global Neurology Working Group.
At the Global Digital Health Lab Dr. Knauss is focusing on research, interventions, activities, and policies working towards the goal of "health for all" and Universal Health Coverage (UHC). More specifically, he is interested in digital tools for financing of UHC and digital tools to improve access to quality healthcare for neurological diseases. As a researcher he is working on generating scientific evidence on the impact and cost-effectiveness of digital interventions and as an entrepreneur contributes to develop open-source digital tools serving these goals. Dr. Knauss is co-leading several international projects funded by the German Ministry of Education and Research on the impact on digital interventions in Global Health.
Dr. Knauss has a leading role in professional and scientific societies chairing the "Young Neurologist" of the German Neurological Society representing more than 3000 residents and early career researcher in Germany as well as previously chairing the Early Career Investigator Committee of the International Society of Cerebral Blood Flow and Metabolism. Additionally, Samuel is a cofounder of the German-Malagasy social enterprise mTOMADY gGmbH which is working on digitizing health financing systems in low- and middle-income countries and currently employs 25 people in Madagascar and Germany.
While working as a clinician and young research group leader he has also taken over responsibilities in the professional community and been actively engaged in civil society. During the COVID-19 pandemic he has started and co-led research initiatives to understand neurological involvement in the disease. He has contributed to the datasets in national and international registries and is now co-chairing the Neurological Expert Group of the German National Pandemic Cohort Study. Internationally, he represents the German Neurological Society in the WHO Brain Health Unit Forum and the COVID-19 Surveillance Working Group.