Katherine Victoria Sedano Rojas
Contacts
katherinesedano@yahoo.com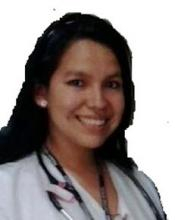 Biography
SEDANO, Katherine (Peru)
Miss Sedano is a young Peruvian physician graduated from the Universidad Peruana Cayetano Heredia (UPCH-2010) with outstanding clinical and surgical skills. Excellence record academic at university and experience performed clinical rotations abroad (UNICAMP (Campina,Brasil), Hospital ClÌnico San Carlos (Madrid,Spain) and significant contribution in Peruvian public health research.
As medicine student, she had active participation in research. She started doing research collaborator in the Laboratory of Endocrinology and Reproduction (LID-UPCH) and Laboratory of Height (Cerro de Pasco) 2007-2008. She won the Prize Francisco Tejada 2008 awarded by School of Medicine Alberto Hurtado by the study: Validation of Diagnostic Criteria for Metabolic Syndrome in people at high altitudes-Cerro de Pasco ñ Peru.
Per her qualities of leadership, responsibility, philanthropy, enthusiastic, with communication skills and good performance in the teamwork had been recognized by her peers, becoming a student representative on the University Assembly (UPCH- Period April 2007 - March 2009). Also, In February 2008 she recived a Scholarship granted by the Embassy of the United States of America and Fullbrigth for Western Hemisphere Institute for Student Leaders. (Arizona - Washington DC, January 26, 2008 - 29 February 2008). She is a member of State Alumni -Young Leader Mentor (U.S. Embassy) (February 2008 to date).
As a physician, she had work experience in clinical and has completed courses in qualitative research in Public Health as well as in quantitative research. Nowadays she is working as Physician Assistant- Department of hospitalization in Cayetano Heredia Medical Clinic. She has teaching experience has been assistant professor in the faculties of medicine and nursing, with physiology Course, as well as being coordinator of continuing medical education course for physicians in remote provinces in Peru: Management of patients with HIV - Project ICOHRTA-UPCH.
Her outstanding experience in different research field: Infectious diseases (Invasive Pneumococcal Disease II, Isolates and frequency of Candida sp. in culture of intravenous catheters) altitude illness, etc. Always she tries to focusing on social outreach and public health, which contributes to the development of her society. About this topic , nowadays she is working in: Access to good quality diagnostic test, laws and regulation like such important topic in the Peruvian public health.