Promise Emmanueal Sefogah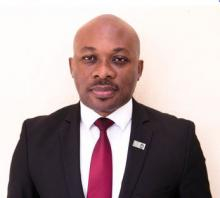 Biography
Specialist Obstetrician Gynaecologist: Providing clinical care, Research, Teaching Residents, Medical Students, Nurses and Midwives and part of Unit Management Team
Assistant to the Registrar of Medical and Dental Council of Ghana in charge of Education Unit with duties including certification registration examinations for foreign-trained Practitioners seeking to practice in Ghana, Continuous Professional Development programmes
Training Coordinator and Facilitator, National Ambulance Service, Ministry of Health, Ghana: Training and Supervising Emergency Medical Technicians (EMT) 
Dr Promise Emmanuel Sefogah has worked at Ghana Health Service/ Ministry of Health since 2005 providing healthcare, teaching, conducting research and contributing to health policy in Ghana. During the last 5 years he has provided leadership in Ghana and beyond. He served as an executive for the Ghana Medical Association, Society for Obstetricians and Gynaecologists, as Head of Clinical Services and later Ag. Medical Director for LEKMA Hospital, & Volunteer Medical advisor for several Maternal, Childhealth and Human Rights NGOs in Ghana. He was Vice Chair of the Students Representative Council at the London School of Hygiene and Tropical Medicine in  charge of students' social, welfare and charity initiatives. He engineered the establishment of the Special Director's Award for the best student who contributes great leadership beyound the academic whiles at the LSHTM. He served on the board of Academy of Breastfeeding Medicine, New York.
He holds an MBChB and Membership of the Ghana & West African College of Surgeons. He had an MPH in Health Service Management; Diploma from LSHTM, & a Certificate from Harvard.
He lives in Ghana with his family and enjoys good music, playing the drums and loves to motivate young people to achieve their dreams in life.