Sergey Victorovich Netesov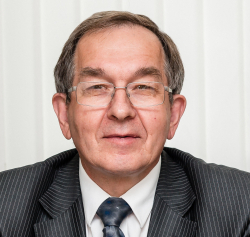 Biography
Key areas of research: molecular biology, virology and biotechnology.
Sergey Victorovich Netesov is the Head of the Laboratory of Bionanotechnology, Microbiology and Virology of the Faculty of Natural Sciences of Novosibirsk State University. He is a well-known scientist in the field of virology, molecular biology and medical biotechnology, author and co-author of more than 400 scientific publications including six books.
Netesov received his PhD degree from the Moscow State University and, in 1993, a doctoral degree in Biological Sciences (DSci). He is a Corresponding Member of Russian Academy of Sciences (since 1997) and of the European Academy of Sciences (since 2004).
He is also Member of the Russian Biotechnology Association (since 1990), Life Member of the American Society for Virology (since 1997), the Russian Society of Epidemiologists, Microbiologists and Parasitologists; Member of American Biosafety Association and member of the Filovirus Study Group of ICTV. In addition, he serves on several advisory boards of national agencies and organizations in and outside Russia.
Early in his research career he developed original methods of isolation of restriction endonucleases. Later, he was a PI of a few national projects that pioneered the sequencing of genomes of the Ebola virus, Venezuelan equine encephalitis (VEE) virus, Eastern and Western Equine encephalitis viruses, tick-borne encephalitis and influenza viruses. He also was a PI of the reverse genetics project on the VEE virus reconstruction from cDNA fragments. He was involved in the development of inactivated hepatitis A vaccine, recombinant hepatitis B vaccine and recombinant vaccine against VEE virus. He successfully completed long-term projects focused on the study of molecular diversity and epidemiology of the viral hepatitis in Siberia. During the last decade he developed projects in the field of oncolytic viruses and one of the preparations named Cancerolysin was a subject of Phase 1 clinical trials in Russia. He also has some significant publications in the field of bioterrorism prevention, biosafety and avian influenza virus study.
His current research interests are in development of recombinant oncolytic viruses including adenoviruses, poxviruses and paramyxoviruses; in molecular epidemiology of viral infections and in virus taxonomy.
Netesov is twice a winner of the prize awarded by the Government of the Russian Federation in the area of science and technology (1998 and 2006).