Sherien Elagroudy
Assistant Professor of Environmental Engineering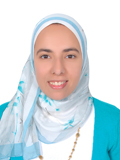 Biography
Dr. Elagroudy is an Assistant Professor of Environmental Engineering at Ain Shams University, Cairo, Egypt. She has won the National Graduate Student Paper Award for her Ph.D., conducted at Ryerson University, Toronto, Canada, from Canadian Geotechnical Society.

Dr. Elagroudy has recently won the best young scientist award from Ain Shams University. She is a member of the Global Young Academy as well as a steering committee member of the Egyptian Young Academy of Sciences. She has been selected as a Young Scientist at the World Economic Forum 2012 and also serves on the Editorial Board of Enhanced Research Publications.
She is leading some research projects in the fields of biowaste digestion, production of solid recovered fuel, bioenergy production and sludge treatment and disposal. She is also involved in low cost technologies for wastewater treatment. She has conducted short term fellowships at Yale University, USA and at CIRAD, France. Dr. Elagroudy is also involved in several EU-funded TEMPUS projects to establish new curricula in Environmental studies and solid waste management.
For 12 years, Dr. Elagroudy has coupled research experience with industrial work with National and International Counterparts (e.g. UNICEF/UN-Habitat, UNDP, EEAA, GTZ, etc). She serves as the head of the Solid Waste Unit at Chemonics Egypt Consultants and has been involved in several projects in solid waste and hazardous waste management and wastewater treatment. She