Sofia Nitti
Communications Assistant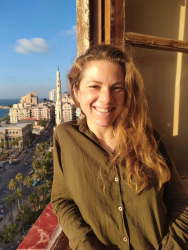 Biography
Sofia joined the InterAcademy Partnership (IAP) Secretariat in Trieste as Communications Assistant in 2023. She oversees IAP communications outputs and she relates with IAP member academies, Regional Networks and other organizations. Her duties include the drafting of the IAP Annual Report, the quarterly IAP and YPL newsletters, the preparation of press releases and videos about IAP activities.
Sofia worked as a multimedia journalist for French, Italian and English-speaking media outlets. From 2019 to 2022 she was based in Iraq, working as a freelance news-reporter and video-maker. She acquired experience in multimedia communication for UN agencies, governmental and non-governmental organizations, in particular in France and across the Middle-East.
Sofia holds a degree in Political Sciences and International Relations from the Università Cattolica di Milano, Italy, and Masters in Communication, Political Sciences and Journalism respectively from Sciences Po Lyon, Sciences Po Lille and École Supérieure de Journalisme de Lille, France. Additionally, she studied Arabic at the University Of Alexandria, Egypt.