Tanvira Afroze Sultana
Contacts
tanvira_sultana@yahoo.com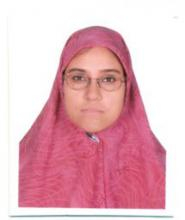 Biography
SULTANA Tanvira Afroze (Bangladesh)
Dr Tanvira Afroze Sultana MBBS, PhD, has extensive experience in haematopathology including morphology, immunophenotyping and molecular cytogenetics. She completed her schooling from Mymensingh Girls Cadet College, the only women's cadet college of that time in Bangladesh. Obtained 10th position among all students in Dhaka Board in Secondary School Certificate in1989 and 7th position in Higher Secondary Certificate in 1991. She graduated in medicine from Lady Hardinge Medical College, New Delhi, India in 1996. Completed one year of rotatory internship at Lady Hardinge Medical College and associated hospitals for the entire year of 1997. She worked as medical officer in Samorita Hospital Ltd (a private hospital), Dhaka for eight months in 1998. Obtained PhD in Medical Science from Department of Hematology and Oncology, Hiroshima University School of Medicine in 2003. Main area of research during PhD was stem cell based study of Myelodysplastic Syndrome and Acute Myeloid Leukemia. Her research work involved flowcytometry, PCR and other genetic assays, human cell culture and other biological assays. She also received Wide exposure in clinical management of malignant and non-malignant haematological disorders; bed-side experience at a 40 bed haemato-oncology unit in Japan. She joined as Senior Scientific Officer cum Assistant Professor and Head of Haematology Section in Laboraory Department, BIRDEM (Bangladesh Institute for Research and Rehabilitation in Diabetes Endocrine and Metabolic Disorders) in June 2004. Besides overall administration of the Haematology unit, she is responsible for morphological examination of peripheral blood films, bone marrow aspiration and trephine biopsy including morphological examination of routine and special stains, supervision and quality control of complete blood count reports generated by automated haematology analyzers, performing and supervising manual special tests like reticulocyte counting, sickling test, osmotic fragility etc. Dr. Tanvira also manages malignant and non-malignant haematology cases referred by Out-Patient and In-Patient Departments of BIRDEM. Her academic responsibilities in BIRDEM include conducting lectures for undergraduate and post-graduate medical students of the institute including practical demonstration, providing hands-on training to students from other institutes in Bangladesh and abroad and supervising PhD and Masters students on molecular biology. Utilizing the expertise obtained in Japan, she established molecular cytogenetic tests for haematological malignancies for the first time in BIRDEM as well as Bangladesh. She has publications in Inernational medical journals viz. British Journal Of Haematology, European Journal of Haematology, Leukemia Lymphoma, Acta Haematologica and Bangladesh Medical Research Council Bulletin.
Update Februrary 2015
"After returning from the second IAMP YPL program, I focused on conducting a multi center study on the trend of hematological malignancies in Bangladesh. Till then there was no documented study at the national level. I completed it and got it published in 2014. I won 1st prize for poster on the study at the annual conference of Association of Physicians of Bangladesh. I also won 1st prize for oral presentation on another study in my laboratory, at the annual Diabetes and Endocrine Conference. I was also member of the committee formed by Bangladesh Academy of Sciences for prevention and surveillance of Antibiotic Resistance in Bangladesh, chaired by Professor MR Khan and including Professor KMS Aziz and Professor Naiyyum Choudhury.in the meantime, I felt that if i really want to contribute in medicine with my full potential, I need to develop my career further in an advanced country with more opportunities for research. I applied for National Interest Waiver category US immigrant visa and got approval within a short time. My husband was also transfered to msh Headquarters in Arlington at the same time. So we moved here last November.
Now I am trying to obtain a license to practice medicine in US. I plan to continue clinical research here and contribute in studies that will be beneficial for all cancer patients including those in my country"