Susanna Mills
Public health specialty registrar, Health Education England, Population Health Sciences Institute, Newcastle University, UK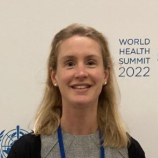 Biography
Susanna is a public health doctor and researcher. She is training as a public health specialty registrar in the North East of England. She is also a clinical lecturer in public health nutrition at Newcastle University, supported by the National Institute for Health Research (NIHR).
Susanna holds a medical degree from the University of Oxford and a PhD in public health from Newcastle University. She is a member of the Faculty of Public Health UK.
Susanna lives in Northumberland in the North East of England with her husband and two young children. In her leisure time she enjoys visiting the beach with her family and country walks. She looks forward to returning to international travel post-COVID-19.