Antonio Lucio Teixeira, Jr.
Contacts
altexr@gmail.com
altexjr@hotmail.com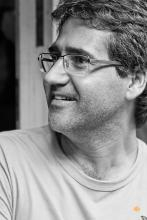 Biography
TEIXEIRA Jr Antonio Lucio, (Brazil)
Dr. Teixeira is Associate Professor of Internal Medicine and Neurology in the Department of Internal Medicine, School of Medicine, Universidade Federal de Minas Gerais (UFMG), Belo Horizonte, Brazil. He is also the head of the Neurology Unity, University Hospital, UFMG. He graduated in Medicine (1997) from UFMG, and did residency in Psychiatry (1998-2000), Internal Medicine (2000-2001) and Neurology (2001-2003) at the University Hospital, UFMG. He also has MSc and PhD degrees in Cellular Biology.
Besides teaching, clinical and administrative activities, he develops research in two main areas of investigation: neuropsychiatry and neuroimmunology. In neuropsychiatry, his research has focused the development and/or validation of clinical instruments to assess behavioral syndromes (i.e. depression, anxiety) in neurological diseases, such as epilepsy and Parkinsonís disease. The main objective of this line is to provide clinical tools to help busy physicians to identify significant psychiatric disorders. He has also been involved in community-based studies to assess the impact of headaches (Capela Nova Study) and cognitive disorders (Piet J. Study) in the population of the countryside of Brazil. Now he is especially interested in translational research aiming to understand the involvement of inflammatory/immune mechanisms in behavior and cognition. For this purpose, he conducts basic (animal models of central nervous and systemic inflammation) and clinical studies. One secondary objective of this line of investigation is to search for inflammatory biomarkers of human diseases, including neglected ones (i.e. leprosy).
He is member of the Brazilian Academy of Sciences, the Brazilian Academy of Neurology and the Brazilian Psychiatric Association. He has published two books in neurology and over 200 papers in peer reviewed medical and scientific journals.