Thiago Marques Fidalgo
Assistant Professor, Universidade Federal de São Paulo, Brazil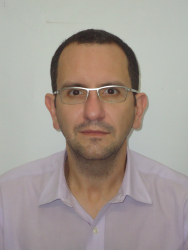 Biography
Thiago Marques Fidalgo has been working at Universidade Federal de São Paulo, Brazil, since 2018 as an Assistant Professor. At this university, he coordinates the Addiction Outpatient Unit and the General Psychiatry Outpatient Unit. During the past five years, he has been mentoring MD and PhD students and leading a multi-professional healthcare team.
He studied Medicine at Universidade Federal de São Paulo, the same institution where he did his training in Psychiatry and his PhD. He is a member of the Psychiatry Technical Board and of the State Board of Public Policies on Alcohol and Drugs.
Thiago Marques Fidalgo lives in Santos, a city by the coast, an hour away from São Paulo. In his free time, he likes to walk with his dog by the beach and play with his nieces and nephew. Reading and learning languages are also hobbies.