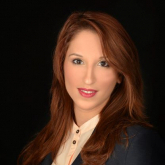 Biography
Dr. Venetia Giannakaki is a fifth-year neurosurgical trainee in the North East of England and an Associate member of the Society of British Neurological Surgeons. She is the trainee representative at the Surgical Specialty Board (SSB) in Neurosurgery for the Royal College of Surgeons of Edinburgh and serves as faculty member in Surgical Skills courses organized by the Royal College of Surgeons of England.
Dr. Giannakaki finished her undergraduate training in Aristotle University of Thessaloniki, where she was awarded an MD in Medicine, while she completed rotations in various universities around the world, including Harvard Medical School, Universitaets Klinikum Bonn, University of Nottingham, and Universidad Nacional de Trujillo Peru. She is currently completing her Master's in Medical Education at Keele University and she is writing her thesis on current challenges in neurosurgical training in the UK and viable solutions for improvement. Furthermore, she has been selected through a very competitive process to attend The Healthcare Leadership Academy Scholarship Programme for the academic year 2021-2022.
Apart from her work in the hospital, Dr. Giannakaki is very passionate about teaching and training. She delivers formal and informal teaching on a regular basis in her unit, she is mentoring undergraduate medical students and has been an invited speaker in medical students' conferences as well as faculty in numerous surgical courses. During the 2015 refugee crisis in Greece, she organised and led the response of her local community to find shelter and food for hundreds of refugees that arrived unaccompanied in her hometown.