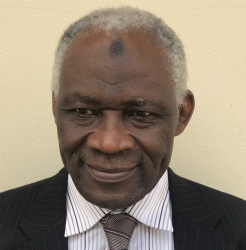 Biography
Ghana Academy of Arts and Science, Accra Ghana
Specialization: Bioethics, Biosafety
Professor Walter Sandow Alhassan is an agricultural scientist with extensive experience of university teaching and research in Ghana and Nigeria. He is currently a private consultant in the biosciences and their application to agriculture.
He obtained his BSc in Tropical Agriculture in 1965;  MS in Dairy Science from the University of Wisconsin, Madison, USA, in 1969;  and a PhD in Animal and Poultry Science from the University of Guelph, Ontario, Canada, in 1975.
He was appointed lecturer at the Kwame Nkrumah University of Science and Technology (KNUST) in Ghana in 1968 and promoted senior lecturer in 1978. He was promoted to full Professor of Animal Production in 1988 at the Abubakar Tafawa Balewa University, Bauchi, Nigeria, after which he was made Dean of the School of Agriculture from 1988-1990.
He was a member of the Presidential Task Force on Livestock Feeds in Nigeria from
1989-1992; Director, Animal Research Institute, Ghana, from 1990-1993; member, Interim National Electoral Commission, Ghana, in 1992; Director-General of the Council for Scientific and Industrial Research (CSIR), Ghana, from 1993-2002. He has also served as a member of council of the University of Development Studies, Ghana; member of Council, United Nation University/Institute for Natural Resources in Africa; and member of the National Council for Tertiary Education, Ghana.
During the 2004-2013 period, he was engaged as a consultant on biotechnological and biosafety policy issues by the Forum for Agricultural Research in Africa (FARA) based in Accra, Ghana. Whilst working with FARA, he served as the Coordinator of the project
on 'Strengthening the capacity for safe biotechnology management in sub-Saharan Africa (SABIMA)' that covered 6 countries (Burkina Faso, Ghana, Malawi, Nigeria and Uganda).
In September 2010, he was a member of the UNESCO Technical Expert Group to Nigeria to determine the suitability of the University of Nigeria, Nsukka, as a UNESCO category II Centre of Excellence in Biotechnology for Nigeria and the West Africa sub- region. He was also chair of the Board of Trustees of the African Agricultural Technology Foundation (AATF) from 2009-2010.
Professor Alhassan has published extensively in peer-reviewed journals and is a member of many professional bodies including the Nigerian Society for Animal Production and the Ghana Society of Animal Production, of which he was president from 1991 to 1995.
He was elected to the Ghana Academy of Arts and Sciences in 2000.