Zineb Ez-Zaitouni
Resident, Department of Clinical Immunology and Rheumatology, Amsterdam University Medical Centers, Netherlands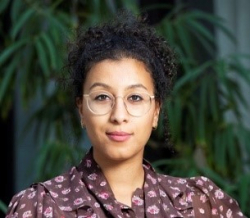 Biography
Dr. Zineb Ez-Zaitouni is currently a rheumatologist in training at the department of Clinical Immunology and Rheumatology at the Amsterdam University Medical Centers (AUMC), the Netherlands. She holds a PhD in Medicine from the University of Leiden. Furthermore, she is a visiting research fellow at the Department of Public and Occupational Health (AUMC) and a clinical fellow at the Amsterdam Center for Professional Performance and Compassionate Care advocating for physician vitality and well-being.
She has a special interest in clinical leadership, health systems research, and health policy. In 2021, she worked as a Schuman trainee for the Special Committee on Beating Cancer in the European Parliament (Directorate General for Internal Policies).
Dr. Ez-Zaitouni is an advocate for diversity, vitality and well-being within the health workforce. She aims to furthermore underline the priority of well-being and mental health in tackling health workforce shortages.