event
Science in Exile webinar series: Return of scientific personnel and reconstruction of scientific system and infrastructure
MAPBOX
The webinar presents case studies - Argentina, Iraq, Sri Lanka and Somalia - and examines strategies on rebuilding scientific systems, infrastructures and communities. It will explore first-hand experiences of scholars who have returned to their countries after being displaced, and the perspectives of policy experts in this field.
The webinar will be chaired by Vivi Stavrou, Executive Secretary of the International Science Council Committee for Freedom and Responsibility in Science (CFRS) and Senior Science Officer, and Emily Borzcik, Assistant Director at the Institute of International Education Scholar Rescue Fund and Science in Exile Steering Committee member, and will feature:
Silvia Braslavsky, physical chemist, retired Research Group Leader, Max Planck Institute for Chemical Energy Conversion.
Anchinesh Maheteme, Senior Durable Solutions Officer, Division of Resilience and Solutions, UNHCR, the UN Refugee Agency.
Abdi Dahir Osman, international consultant, former Minister of Education, Culture and Higher Education for the Federal Government of Somalia.
Celine Taminian, Special Advisor, Scholar Rescue Fund, Institute of International Education.
Paramsothy Jeyakumar, Senior Research Scientist in Environmental Chemistry, Massey University, New Zealand.
This webinar will take place on 26 October at 1PM (Rome time), register at https://unesco-org.zoom.us/webinar/register/WN_yulseYxtTAy4nDf4XmaJSg.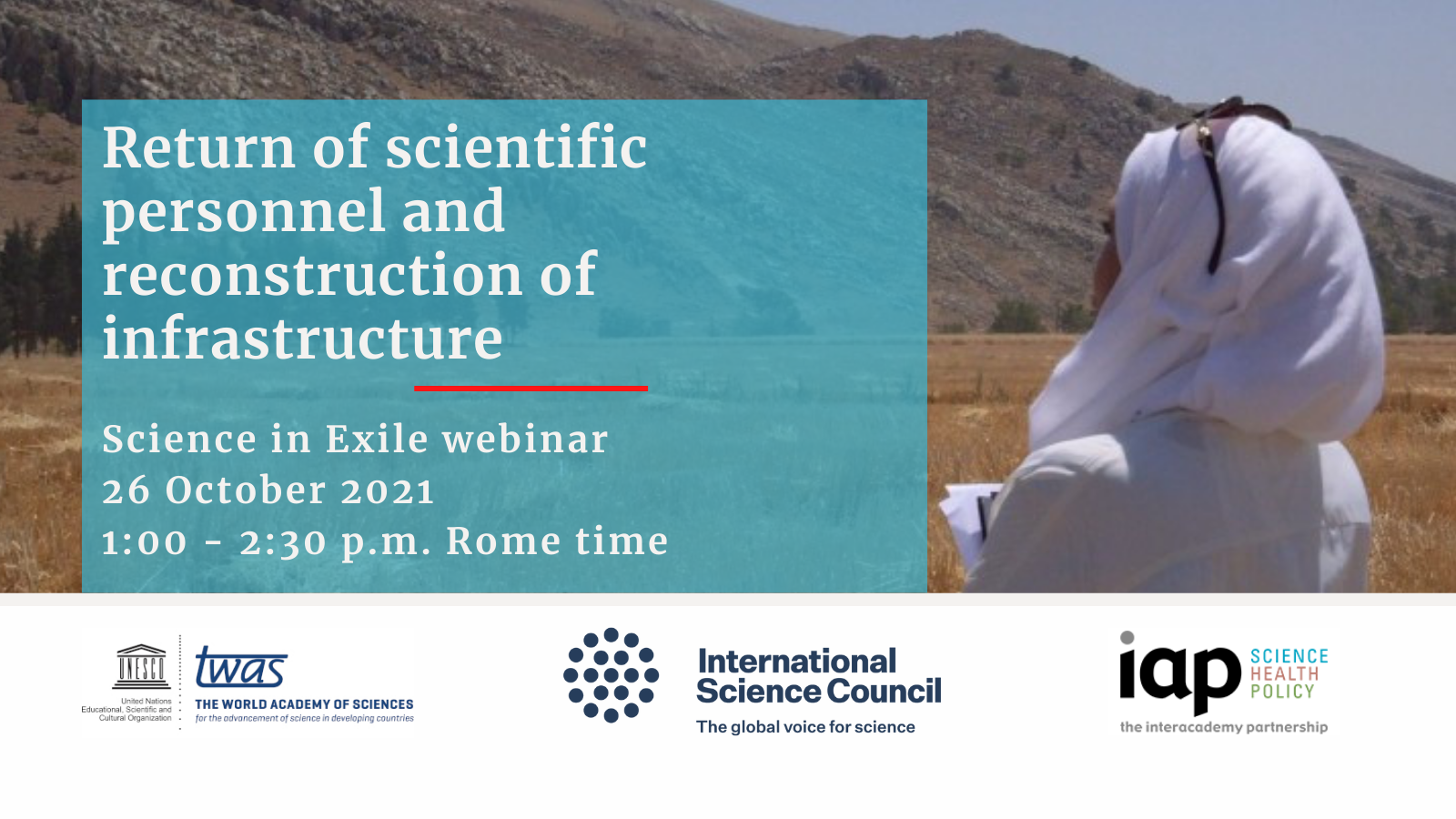 The Science in Exile initiative (www.twas.org/science-exile-initiative) is supported by the Swedish International Development Cooperation Agency (Sida).
The information, opinions and recommendations presented by the speakers and participants to the webinar series do not necessarily reflect the values and beliefs of Science International nor Sida.
Changes to the agenda and list of speakers may occur before the event due to unforeseen circumstances.