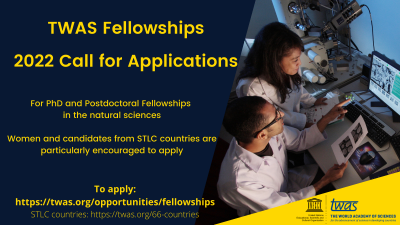 2022 Call for applications: TWAS Fellowships for PhD studies and Postdoctoral research
The World Academy of Sciences for the advancement of science in developing countries (TWAS)—a programme unit of UNESCO, based in Trieste, Italy—promotes scientific capacity and excellence in the global South through a series of programmes and opportunities offered to scientists, including research grants, awards, fellowships and workshops. Eleven Nobel Prize laureates are Fellows of the Academy.
The call for applications is open for the PhD and Postdoctoral Fellowships of The World Academy of Sciences (TWAS). TWAS Fellowships are offered in the natural sciences to students and researchers from developing countries to gain postgraduate education and research experience at top global scientific institutions in the South.
For full details on eligibility criteria and application procedures, please visit:
The application eligibility requirements and deadlines vary according to the different programmes.
Applications from women and candidates from Science and Technology-Lagging countries (STLC) are especially encouraged.
For a list of STLC countries, please see https://twas.org/66-countries (applications from non-STLC developing countries are also accepted).
For queries, applicants can contact fellowships@twas.org.
---
Do not miss news and updates on the activities, opportunities and events of IAP, our regional networks, member academies and other partner organisations: subscribe to our quarterly newsletter, and follow us on Twitter, LinkedIn and YouTube.