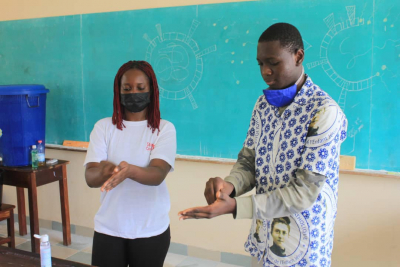 300 students in Benin learn how to protect themselves and their communities from COVID-19
The SSEC-WHO-IAP guide COVID-19! How Can I Protect Myself and Others? is making a difference
Between 5 March and 5 April 2021, the Academy of Young Scientists of Benin and the Research Unit in Applied Microbiology and Pharmacology of Natural Substances of the Polytechnic School of Abomey-Calavi organised of a tour of several high school and colleges in this African country to roll out COVID-19! How can I protect myself and others?, the rapid-response guide for youth ages 8–17 developed by the Smithsonian Science Education Center (SSEC), in collaboration with the World Health Organization (WHO) and the InterAcademy Partnership (IAP).
The roll-out in Benin was supported by an IAP grant and allowed more than 300 students to learn practical ways to stop the spread of this virus.
IBSE and covid
The team used the guide to help young people understand the science and social science of COVID-19 as well as help them take actions to keep themselves, their families and communities safe. The guide is based on the Inquiry-Based Science Education (IBSE) method, and encourages children and youth to understand the nature of the pandemic not only by explaining the science behind the novel coronavirus, but also by teaching how to properly wash hands, wear a mask and practice social distancing.
"I learned that the coronavirus is a rampant disease and that we must protect ourselves from it. I also learned that that washing our hands is very important," explains a young student in this video-report of the initiative:
"By engaging with the young, this initiative aims at having a great impact on our communities," explains Victorien Dougnon, president of the Academy of Young Scientists of Benin.
"As microbiologists, that's what we want to achieve: to involve young schoolchildren and students in the fight against COVID-19" he added.
COVID-19! How can I protect myself and others is available for free in English, Chinese, Amharic, Arabic, Bengali, French, German, Haitian Creole, Hausa, Hebrew, Hindi, Indonesian, Italian Japanese, Korean, Malay, Pashto, Portuguese, Romanian, Swahili, Tagalog, Tamil, Thai and Vietnamese. Download it at https://ssec.si.edu/covid-19.
Another video-report (in French) is available here