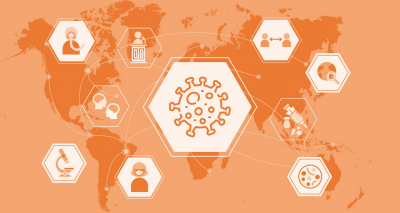 Addressing the challenge of the COVID-19 pandemic in Low-and Middle-Income Countries
The Academy of Medical Sciences in collaboration with 7 Academies and organisations from LMICs hosted a virtual workshop to consider the challenges of the COVID-19 pandemic and response
The UK Academy of Medical Sciences, in collaboration with 7 Academies and organisations from Low- and Middle- Income Countries: Argentina; Brazil; India; Malaysia; the Philippines; South Africa; and The African Academy of Sciences, hosted an international virtual workshop on the response to the current COVID-19 pandemic.
The workshop considered the current response to the COVID-19 pandemic across three specific areas – public health; social and behavioural; and clinical – in several low- and middle-income countries across the world: Malaysia, Philippines, India, South Africa, Uganda, Kenya, Rwanda, Brazil and Argentina.
Following the workshop, a written report is being produced which will summarise the discussion which took place and highlight the agreed priorities and actions. The report will be disseminated to UK and international stakeholders.
A copy of the programme can be downloaded on the UK Academy of Medical Sciences' website.
The final day of this workshop brought together each of the three themes - public health; social and behavioural; and clinical - into one forum. This session also included a series of keynote presentations from Professor David Heymann, Dr Chikwe Ihekweazu, Dr Margaret Hamburg and Dr Moses Alobo that reflect upon different aspects of the COVID-19 response around the globe. The plenary session  identified commonalities between thematic groups, and explored opportunities to support each other in setting out a pathway to achieve proposed solutions.
You can find more information an watch a video of the final day's session on the website of the UK Academy of Medical Sciences.