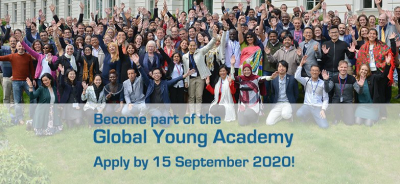 Become a member of the Global Young Academy
Policy for Science
Sustainable Development Goals
Deadline to apply is 15 September 2020
The Global Young Academy (GYA) membership call for 2021 is open; you are welcome to submit your application before 15 September 2020 (10 pm UTC). 
Applications are sought from young, independent scholars who combine the highest level of research excellence with a demonstrated passion for delivering impact.
Research fields: The call is open to all scholars working in any research-based discipline, including the natural, physical and social sciences, as well as the arts and humanities.  
Excellence: Applicants must be able to demonstrate a high level of excellence in their discipline, ascertained by a proven track record and expected future achievements. Moreover, applicants must demonstrate a clear commitment to making a difference in society. PhD or equivalent is a requirement for applicants.
Impact: GYA is committed to a broad range of programmes around the world to support young scholars, promote science to a broad audience, engage in policy debate, and foster international and interdisciplinary collaboration. Applicants should provide evidence of interest or experience in one or more of these areas.
Age/career point: Applicants should be in the early to middle years of their independent careers, i.e. approximately 7 years from PhD and aged 30-40. Applicants falling outside these ranges are still invited to send their applications with a justification for why they should be considered.
For more info about the application process and relevant documents follow this link. 
About the Global Young Academy (GYA):
The GYA was founded with the vision to give a voice to young scientists around the world. By empowering early- to mid-career researchers to lead international, interdisciplinary, and intergenerational dialogues, the GYA mobilises talent from six continents for capacity-building, mentoring, providing science advice, engaging in science policy and improving the existing research environment. Members are chosen for their demonstrated excellence in scientific achievement and their commitment to service. Currently, there are 200 GYA members and 298 alumni from 86 countries. The GYA Office is hosted at the German National Academy of Sciences Leopoldina, in Halle (Saale), Germany.