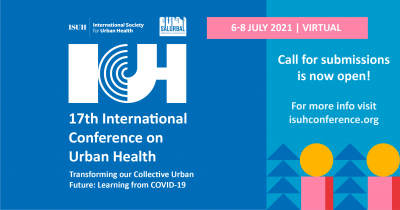 Call for submissions: 17th International Conference on Urban Health
Abstracts are invited by 9 April 2021
The 17th International Conference on  Urban Health 'Transforming our Collective Urban Future: Learning from COVID-19' will be held virtually 6-8 July 2021. It is organised by the International Society for Urban Health (ISUH), the only global non-governmental organization solely focused on advancing urban health and health equity by addressing the broader determinants of health.
Abstracts are invited by 9 April 2021 for contributions for workshops, panels, talks and posters on the following core themes:
Urban health inequities
Transforming built environments
Governance and public health systems
Urban health over the lifecourse
Climate and urban health
Urban health in Latin America and the Caribbean
For more information on submissions and registration, visit: http://isuhconference.org.