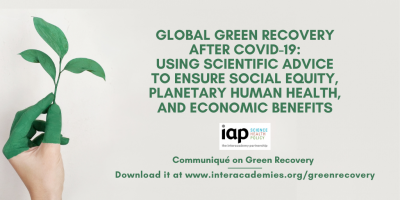 COVID-19 recovery must be green, says world academies network
Energy
Environment & Climate
Health
Science can ensure social equity, health, and economic benefits
The COVID-19 pandemic is imposing devastating health and social costs worldwide. At the same time, the climate emergency demands urgent and resolute action. This is why today, under the umbrella of the InterAcademy Partnership (IAP), 140 medical, scientific and engineering academies from around the world urge world leaders to focus on a green recovery when planning for economic activity after the pandemic. Their key message in their communiqué is that only a low-carbon recovery can generate co-benefits for social equity, the environment, and human health.
"It is clear that health and sustainability should be central to the post-pandemic economic response. Now it is time to make a choice. Either, societies return to the old pathways embedded in high-carbon economies that pose major threats to health and sustainable development. Or seek low-carbon socioeconomic pathways to protect and promote human health and enhance the prospects for an equitable recovery compatible with the commitments in the Paris Climate Agreement," says Volker ter Meulen, IAP President. 
IAP academy members constitute more than 30,000 leading scientists, engineers and health professionals in over 100 countries. IAP's analysis 'Global Green Recovery After COVID-19: Using scientific advice to ensure social equity, planetary human health, and economic benefits' draws on previous work by academies to identify challenges and science-based solutions across multiple sectors to effect fundamental recovery transitions worldwide that support the imperative for rapid decarbonization.
"We must rapidly reduce fossil fuel use and other sources of greenhouse gas emissions, and recognise the value of ecosystem services and of the potential for climate change mitigation policy to bring significant human health benefits," says Cherry Murray, co-chair, IAP Science. "It has been said before, but it is worth repeating: We need to 'build back better'," adds Murray.
"International coordination is paramount, and we must focus our attention on the needs of the most vulnerable. Our recovery actions should take into account existing strategic initiatives, in particular the United Nations' Sustainable Development Goals and other UN Agreements on biodiversity and climate change. But these urgent priorities necessitate strengthening the capacity to support science-informed decision-making at national, regional and global levels," says Masresha Fetene, co-chair, IAP Policy.
Noting that the COVID-19 pandemic has accentuated health inequities, with a disproportionate impact on already vulnerable populations, IAP recently joined other health organisations in an open letter to the UN calling for measures to reduce health inequity not only as this pandemic continues, but also in developing plans for preparedness and responsiveness to future threats.
As a follow-up to this letter, IAP President Volker ter Meulen recently spoke alongside the Director-General of the World Health Organization (WHO) Tedros Adhanom Ghebreyesus and others at the launch of the Global Sustainable Health Equity Movement, and IAP's new analysis points out that also the green recovery must be rooted on fair and equitable strategies, leaving no one behind.
The new communiqué (available online at www.interacademies.org/greenrecovery) was signed by the Steering Committee members of the InterAcademy Partnership:
Volker ter Meulen, IAP President
Depei Liu, IAP President and Co-chair, IAP Health
Margaret Hamburg, Co-chair, IAP Health
Krishan Lal, Co-chair, IAP Science
Cherry Murray, Co-chair, IAP Science
Masresha Fetene, Co-chair, IAP Policy
Richard Catlow, Co-chair, IAP Policy
NOTE TO EDITORS: Under the umbrella of the InterAcademy Partnership (IAP), 140 national, regional and global member academies work together to support the vital role of science in seeking evidence-based solutions to the world's most challenging problems. In particular, IAP harnesses the expertise of the world's scientific, medical and engineering leaders to advance sound policies, improve public health, promote excellence in science education, and achieve other critical development goals.