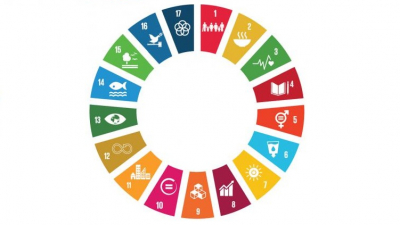 Demystifying the SDGs: The world's science academies launch a guide to the Sustainable Development Goals
Washington, D.C. U.S., December 6, 2017 – The United Nations' 2030 Agenda for Sustainable Development, or "Agenda 2030", is a blueprint for the future well-being of the planet.  Its targets are aspirational, but the stakes are high, as our planet faces unprecedented economic, social and environmental stresses. 
Agenda 2030 is underpinned by 17 Sustainable Development Goals (SDGs), broken into 169 specific targets, whose realisation will require the best knowledge, innovation and application from all sectors.  Scientists have an essential role to play, and whilst many are already engaged in various capacities, there is a need for many more to lend their expertise to this vital effort. 
Representing some of the best scientific minds in their countries, the merit-based academies are an important source of expertise, but according to a member survey conducted this year by the InterAcademy Partnership (IAP), the global network of science, engineering and medical academies, awareness of the SDGs is limited.  Today, IAP has published a guide to the SDGs as a resource for all merit-based academies and other interested members of the global science community.  It sets out, in a simple, succinct way, why and how they can support the SDGs nationally, regionally and globally. 
The 20-page guide is available here. It can be printed out as a booklet or read online, where links are provided to a wealth of further resources for those interested in more detail.  IAP anticipates that the guide will help raise awareness of the SDGs amongst the global science community, in particular the national academies; demystify the complex infrastructure and processes involved in their implementation; and encourage scientists across the disciplines to apply their knowledge to this critically important global agenda. It sets out where academies can bring knowledge to support the goals and where there is capacity to inform policy-making. The guide is supported by a database of peer-reviewed reports  pertinent to the SDGs that academies have produced since 2014.
Dr Eva Alisic, Co-Chair of the IAP's Working Group on Improving Scientific Input to Global Policymaking, said "Academies and academic societies can provide a wealth of research expertise and insight, which is presently underutilised.  If deployed effectively, they can play their part in supporting the SDGs, as independent sources of peer-reviewed knowledge; as champions of evidence-informed policymaking; and as mentors to young academies and scientists to help empower them to play their part in shaping their future."
Dr Tracey Elliott, IAP Project Director, added "We anticipate this guide will be a useful tool for academies and other members of the global research community. Our efforts will now focus on dissemination across the academy networks nationally, regionally and globally; and on encouraging them to get more involved."
Contacts:
Teresa Stoepler
Executive Director, IAP-R
Phone: 202-334-2238, tstoepler@iapartnership.org
Background
The InterAcademy Partnership (IAP) is the global network of science, engineering and medical academies, working together to help address shared global challenges using the best available scientific evidence.  Under its policy arm, IAP-Research, a three-year project on Improving Scientific Input to Global Policymaking is endeavouring to raise awareness of the SDGs amongst merit-based academies so that the best research can be applied to this critical global agenda.