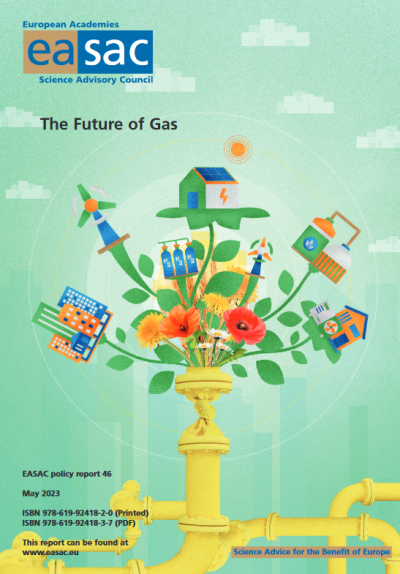 EASAC Report Highlights Urgent Need to Phase Out Natural Gas and Transition to Renewables
A newly released report by the European Academies' Science Advisory Council (EASAC) titled "The Future of Gas" sounds the alarm on the environmental impact of natural gas and emphasizes the imperative to transition away from fossil fuels.
"The Future of Gas" report by the European Academies' Science Advisory Council (EASAC) has been published in May 2023. Contrary to popular belief, the report asserts that natural gas is not a cleaner alternative to coal or oil and fails to achieve significant reductions in greenhouse gas emissions. The report highlights the significant global warming potential of methane leakages and calls for a complete transition to renewable energy sources, alongside measures to address social injustices and explore viable alternatives to natural gas such as heat pumps and district heating.
One of the report's key findings is the alarming global warming potential of methane leakages throughout the natural gas supply chain. Methane, which has a significantly shorter atmospheric lifetime than carbon dioxide, possesses a global warming potential over 80 times higher over a 20-year period. This makes it a highly potent greenhouse gas that exacerbates climate change. As a result, the report emphasizes the urgent need to abandon all fossil fuels and calls for the banning of new natural gas boilers while advocating for a substantial increase in renewable electricity production.
European Member States have been seeking alternatives to Russian pipeline gas and have turned to liquid natural gas (LNG) from non-European sources. While recognizing the need for short-term measures, William Gillett, EASAC's Energy Programme Director, asserts that the long-term solution lies in a complete phasing out of gas and a significant ramping up of renewable energy sources. Gillett emphasizes that the climate crisis necessitates immediate and drastic action without compromise.
Natural Gas no more a transitional option
The report underscores the importance of replacing natural gas with renewables due to the urgent nature of climate change. With approximately 65 million natural gas boilers installed in the EU for heating buildings, heating represents the largest consumption of natural gas. Several Member States have already implemented measures to prohibit the installation of new gas boilers or to require high levels of renewables in buildings. The report recommends heat pumps and district heating as viable and environmentally friendly alternatives to gas boilers. It highlights the need for tailored solutions based on local factors such as building structures, climate conditions, and availability of renewable or waste heat sources. To effectively transition, cities must integrate these changes into urban planning and engage with heating system owners and users.
Furthermore, the report stresses the importance of addressing social injustices throughout the transition process. Recognizing that not everyone has the financial means or access to credit for purchasing new heating systems, the report calls for foresight, social sensitivity, and targeted support mechanisms to assist vulnerable groups and households. While gas distribution and supply companies advocate for hydrogen as a replacement for natural gas, the report questions the viability of this approach. It states that blending 10% hydrogen in natural gas only leads to a 1% reduction in CO2 emissions, making it an ineffective use of hydrogen's potential. Instead, the report predicts a growing demand for hydrogen in certain industries and heavy-duty transport.
For years, natural gas has been considered a transitional fuel on the path to achieving net-zero carbon emissions by 2050. However, "The Future of Gas" report debunks this notion, declaring that natural gas can no longer be viewed as a viable option. The report emphasizes the urgency of replacing all combustion-based electricity generation and heating with renewable sources like wind, solar, and hydro power.
The report also examines the possibilities of carbon capture and storage (CCS) and nuclear power. However, it concludes that neither technology can be deployed quickly enough to address the climate crisis effectively. Additionally, nuclear power plants face vulnerabilities from climate change impacts, such as water scarcity for cooling purposes. In summary, "The Future of Gas" report underscores the critical need to phase out natural gas and transition to renewable energy sources. It calls for immediate action to mitigate climate change and highlights the importance of tailored solutions, social considerations, and support mechanisms throughout the transition process.
Read and download the report here.
Watch the video recording of the EASAC report launch below or here.