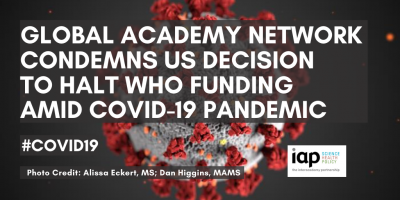 Global Academy Network Condemns US decision to Halt WHO funding Amid COVID-19 Pandemic
Any disruption to the WHO's operating budget amidst the COVID-19 pandemic threatens its ability to perform its critical role of coordinating the international medical and scientific response to the virus
The InterAcademy Partnership, a network of 140 merit-based academies of medicine, sciences and engineering, condemns the United States' decision to halt funding to the World Health Organization (WHO). The United States provides $400 – 500 million annually to the WHO (nearly 15% of its budget) and is its top funder. Although it is not yet clear for how long the US will halt funding and whether this move will be temporary, any disruption to the WHO's operating budget amidst the COVID-19 pandemic threatens its ability to perform its critical role of coordinating the international medical and scientific response to the virus. No other international body is placed to do so. Since its founding in 1948, WHO has provided trusted leadership amidst numerous public health crises including HIV/AIDS, SARS, Zika and Ebola.
IAP co-chair and former US Food and Drug Administration Commissioner, Dr. Margaret Hamburg, emphasized, "Defunding WHO amidst a global pandemic would be extremely unwise. It will most directly and negatively impact low income countries, but such action will put all our nations at greater risk."
IAP President, Dr. Volker ter Meulen, former president of the German National Academy of Sciences Leopoldina and a physician by training, further noted, "We hope that the US will reverse this decision immediately. This is not the time to undermine our global coordination structures, which could result in additional lost lives."
The IAP reiterates its call for international cooperation and collaboration in the fight against COVID-19.
NOTE TO EDITORS: The presidents of the US Academies of Science, Engineering and Medicine have also voiced their concern about any interruption to WHO funding.
Under the umbrella of the InterAcademy Partnership (IAP), more than 140 national, regional and global member academies work together to support the vital role of science in seeking evidence-based solutions to the world's most challenging problems. In particular, IAP harnesses the expertise of the world's scientific, medical and engineering leaders to advance sound policies, improve public health, promote excellence in science education, and achieve other critical development goals.
Contact information for general enquiries: Mr Giovanni Ortolani, IAP Communications.  Email: gortolani@twas.org
Steering committee members are available for interviews.