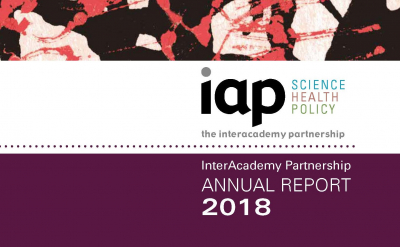 IAP announces the publication of its 2018 Annual Report
This publication (free to download) provides an overview of IAP activities in 2018
In 2018 the InterAcademy Partnership (IAP) supported 62 meetings and 21 publications, but this is just the tip of the iceberg. The new IAP Annual Report provides an overview of IAP activities in 2018, with specific sections on activities by affiliated regional networks AASSA, EASAC, IANAS, and NASAC. It also gives evidence of IAP's focus on providing science advice and promoting cooperation and capacity building among its membership - the world's merit-based academies of science, medicine and engineering, and highlights how IAP strengthened the global scientific enterprise and supported the careers of young scientists.
As IAP Presidents Volker ter Meulen and Depei Liu wrote in the report, "[o]ver the past year, the InterAcademy Partnership has raised its profile in the international science-policy arena. Together with our member academies and regional networks, we harmonized our strategies, operations and outreach, and undertook a series of high-profile global projects that have fully engaged not only our members and the scientific community, but also the wider society and the global political arena."
"In 2018 IAP achieved much, but still our world faces many challenges and more remains to be done in order to attain the SDGs. This is why we must stand together as strong advocates for evidence-based decision-making: this is the strength of IAP, and we all must do our part to preserve our planet and build a more equitable society" they added.
You can download the full report here.
?Hot from the press: the @IAPartnership Annual Report 2018! Last year we supported 62 meetings and 21 publications, but this is just the tip of the iceberg: read the full report here https://t.co/xgz9cmTEan pic.twitter.com/2i2tazdsoU

— InterAcademy Partnership (IAP) (@IAPartnership) November 8, 2019