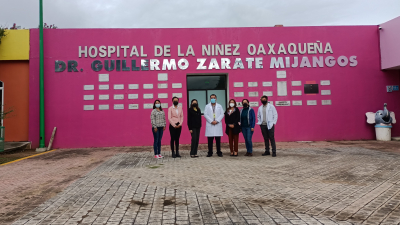 IAP YPL alumnus receives a CONACYT grant to study childhood leukemia in marginalized regions of Mexico
Funding comes from the Mexican Government through the Consejo Nacional de Ciencia y Tecnología (CONACYT)
Juan Carlos Núñez-Enríquez, an IAP Young Physician Leaders (YPL) alumnus (2016 cohort), is working to fight against the high incidence and mortality rates of childhood acute leukaemia in marginalized regions of Mexico.
"I was honoured to receive funding from the Mexican Government through the Consejo Nacional de Ciencia y Tecnología [CONACYT]," he said, stressing the fact that he, together with many distinguished scientists, will carry on the largest epidemiological research being conducted right now in Mexico.
The Consejo Nacional de Ciencia y Tecnología (CONACYT) is Mexico's entity in charge of the promotion of scientific and technological activities, setting government policies for these matters, and granting scholarships for postgraduate studies.
This research project will investigate the socio-economic and environmental factors associated with childhood acute leukaemia incidence and mortality rates in the communities living in the PMexican states of Puebla, Oaxaca and Tlaxcala.
More info about this project ( in Spanish) can be found here.