Juan Carlos Núñez-Enríquez
Contacts
pediatrocito@gmail.com
jcarlos_nu@hotmail.com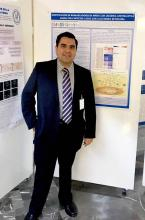 Biography
Currently, Dr. Núñez works at the Mexican Institute of Social Security as Associate "B" Clinical Researcher at the Pediatric Hospital of the National Medical Center "The Siglo XXI". Among his responsibilities, he works in a multicenter and multi- institutional group for the study of etiology and prognosis of childhood leukemia in Mexico City. He is professor of pediatric residents. Since 2012, Dr. Núñez has been the main professor of the required first-semester course "Introduction to Medical Sciences" of the Master in Sciences Medical Physics Graduate Program of the Universidad Nacional Autónoma de México. 
Dr. Núñez has been working at Hospital de Pediatría Centro Medico Nacional Siglo XXI since 2012 that supports its affiliates. He conduct molecular and epidemiological research in the field of childhood leukemia. During the last 4 years he has participated in different multicenter and international leukemia research studies, and supported the teaching of clinical research to pediatric residents.
holds a diploma in Pediatrics and MSc from UNAM. Currently, he is completing the PhD at UNAM and belongs to the Mexican National System of Researchers (Level 1), is member of the American Academy of Pediatrics (AAP) and the American Society of Hematology (ASH). He has published various scientific articles in peer-reviewed national and international journals and wrote different book chapters about the etiology of childhood leukemia.  
lives in Mexico City. In his free time he enjoys traveling and spending time with family and friends.