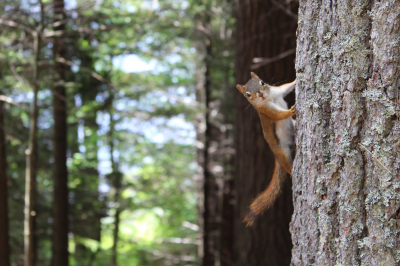 IPBES Call for nominations for scoping a methodological assessment on business and biodiversity
IPBES is seeking experts and practitioners with expertise in impact and dependency on biodiversity and nature's contributions to people of different economic sectors
The IPBES Plenary, in decision IPBES-7/1, adopted the rolling work programme of IPBES up to 2030 (set out in annex I to decision IPBES-7/1), which includes under its first objective a methodological assessment of the impact and dependence of business on biodiversity and nature's contributions to people ("business and biodiversity assessment").
This assessment is aimed at categorizing how businesses depend on, and impact, biodiversity and nature's contributions to people and at identifying criteria and indicators for measuring that dependence and impact, taking into consideration how such metrics can be integrated into other aspects of sustainability.  For more detailed information please see the initial scoping report set out in document IPBES/7/6 (appendix II, section IV) and reproduced in the annex to this letter.
The Multidisciplinary Expert Panel (MEP) invites Governments and other stakeholders to nominate relevant experts to assist with the scoping of this assessment.
The scoping process will be conducted in line with the procedures for IPBES deliverables set out in decision IPBES-3/3, annex I (available here) and based on the initial scoping report annexed to this letter.
IPBES is seeking experts and practitioners with expertise in impact and dependency on biodiversity and nature's contributions to people of different economic sectors such as forestry, agriculture and fisheries, water, tourism, energy and mining, built environment and infrastructure, manufacturing and processing, health and financial institutions.  Experts are sought from a diversity of backgrounds including academic, business and industry, and a diversity of disciplines, expertise and domains including knowledge of environmental accounting, corporate social responsibility, environmental justice, value and supply chains, indicators, monitoring and disclosure, and ecology.
All nominated experts (Nominees) need to be available to attend the scoping meeting that is part of the scoping process, tentatively scheduled for 26-30 April 2021.
All Governments and relevant organizations or institutions are encouraged to submit nominations. Organizations or institutions wishing to nominate are not required to have the status of an observer to the Plenary of IPBES to make a nomination. Please help us to disseminate this call for nominations of experts widely.
Please follow this procedure for nomination:
Nominees are invited to fill out the application form and attach their curriculum vitae through the dedicated web portal at https://ipbes.net/application/scoping-of-a-methodological-assessment-of-business-and-biodiversity (to access this page you will need to log in with your IPBES web site log in credentials. Nominees not yet registered on the IPBES web site will need to do so at https://ipbes.net/user/register). Please note that the nomination form is in English only and applications should be submitted in English, as the assessment process will be conducted in English;
The nominating Government or organization (Nominator) indicated by the Nominee will receive an email with a link to the nomination form and will be invited to approve and submit the nominations in the web portal;
Nominators and Nominees will receive a confirmation via email once the nomination has been duly submitted.
Interested experts wishing to be nominated by a Government are encouraged to contact their IPBES National Focal Point (https://www.ipbes.net/national-focal-points) regarding any country-specific processes or deadlines and are requested to fill out their application form by 25 January 2021.
Nominators (Governments or organizations) should approve the applications and submit their nominations by 1 February 2021. Early nominations ahead of the deadline are encouraged.