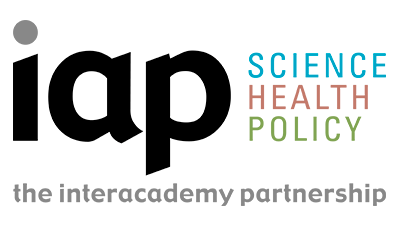 Member academies of the InterAcademy Partnership (IAP) elect new leadership
Successful candidates will begin their mandate in November 2022
The InterAcademy Partnership (IAP) provides a collective, supportive mechanism for academies to further strengthen their crucial roles as providers of evidence-based policy and advice.
In 2021, following a two-year consultative process beginning with the IAP General Assembly in Songdo, Korea, IAP's member academies endorsed a new set of Statutes that will govern the organization for the foreseeable future.
Under the new Statutes, the governance structure has been streamlined to maximize the effectiveness, impact and inclusiveness of IAP. Following an online election in summer 2022, IAP member academies elected the 2022-2024 Governance.
IAP Board
The Board has overall IAP oversight and decision-making powers but gives deference to the votes of the IAP General Assembly and input from the Advisory Committee. Two persons from among the 6 co-chairs – one from a low- and middle-income country and one from a high income country – will be selected as the co-presidents of IAP.
Co-chairs from Low- and Middle-Income Countries
Stephanie Burton, Academy of Science of South Africa
Masresha Fetene, Ethiopian Academy of Sciences
Asma Ismail, Academy of Sciences Malaysia
Co-chairs from High-Income Countrries
Margaret (Peggy) Hamburg, National Academy of Medicine, USA
Diane Negra, Royal Irish Academy
Gianfranco Pacchioni, Accademia Nazionale dei Lincei, Italy
IAP Advisory Committee
The Advisory Committee is responsible for synthesizing recommendations from the Development and Programme Committees and advising the IAP Board. The Advisory Committee consists of a representative appointed by each Regional Network and nominees of five member academies. The host academy and/or national academy of the hosting country hold an ex officio seat on the Advisory Committee.
Karen Cloete, Global Young Academy
Elina Ikonen, Council of Finnish Academies
Jeremy McNeil, Royal Society Canada
Frances Separovic, Australian Academy of Science
Guang Ning, Chinese Academy of Engineering
Ahmet Nuri Yurdusev, Turkish Academy of Sciences - AASSA
Wim van Saarloos, Royal Netherlands Academy of Arts and Sciences - EASAC
Helena Nader, Brazilian Academy of Sciences - IANAS
Mahouton Nobert Hounkonnou, National Academy of Science and Letters, Benin - NASAC
Romain Murenzi, The World Academy of Sciences – ex officio
John Hildebrand, US National Academies – ex officio
Gianni Bussolati, Accademia Nazionale dei Lincei, Italy – ex officio
Development and Programme Committees
Three Development and Programme Committees develop and fundraise for IAP projects under IAP's three strategic aims: 1) Academy Capacity Building; 2) Policy Advice, and 3) Communication, Education and Outreach. The primary role of the Development and Programme Committees is to assist the co-chairs in securing funding for IAP programmes and activities. They also assist the co-chairs to review IAP activities to assure they are in accordance with the current Strategic Plan and ensure Regional Network activities are coordinated with IAP's overall mission and objectives; and propose new programmes and activities to the Advisory Committee.
IAP Development and Programme Committee on Academy Capacity Building
Allia Khedidja, Algerian Academy of Science and Technology
Barjaba Kosta, Academy of Sciences of Albania
Cohen Henry, Nacional de Medicina de Uruguay
Debre Patrice, French National Academy of Medicine
Guerra Ranieri, Accademia Nazionale di Medicina, Italy
Hidalgo Cecilia, Chilean Academy of Sciences
Karunaweera Nadira, National Academy of Sciences, Sri Lanka
Korsten Lisa, African Academy of Sciences
Koundouri Phoebe, World Academy of Art and Sciences
Qadri Firdausi, Bangladesh Academy of Sciences
Yusoff Khatijah Mohd, Academy of Sciences Malaysia
Silveyra Patricia, National Academy of Sciences, USA
Couacy-Hymann Emmanuel, Academy of Sciences, Arts, Cultures of Africa and African Diasporas (ASCAD), Côte d'Ivoire
IAP Development and Programme Committee on Policy Advice
Atawodi Sunday Ene-Ojo, Academy of Medicine Specialties of Nigeria
Bandov Goran, Global Young Academy
Benouar Djillali, Algerian Academy of Science and Technology
Bilgin Pinar, Turkish Academy of Sciences
Fucugauchi Jaime Urrutia, Mexican Academy of Sciences
Jaafar Abu Bakar, Academy of Sciences Malaysia
Krieg Thomas, German National Academy of Sciences, Leopoldina
May Julian, Academy of Sciences of South Africa
Murray Cherry, National Academy of Sciences, USA
Pirk Christian, Academy of Sciences of South Africa
Sanders Dale, Royal Society, UK
Toth Tibor, World Academy of Arts and Sciences
Williams Roberto, Academia Nacional de Ciencias Exactas, Fìsicas y Naturales, Argentina
Nam Wonwoo, Korean Academy of Science and Technology
Liu Jie, Chinese Academy of Sciences
Karly S. Kehoe, Royal Society of Canada
IAP Development and Programme Committee on Communication, Education and Outreach
Colglazier Bill, National Academy of Sciences, USA
Elgaaied Amel Benammar, Beit al Hikma, Tunisian Academy of Science, Letter and Art
Erfani Encieh, Global Young Academy
Frenk Carlos, Royal Society UK
Hibiya Junko, Science Council of Japan
Huete-Perez Jorge A., Nicaraguan Academy of Sciences
Khan Haseena, Bangladesh Academy of Sciences
Kreso  Adila Pasalic, Academy of Sciences and Arts of Bosnia and Herzegovina
Li Zhe, Chinese Academy of Sciences
Tomori Oyewale, Nigerian Academy of Science
Zucconi Alberto, World Academy of Arts and Sciences
Neiki Frasheri, Academy of Sciences of Albania