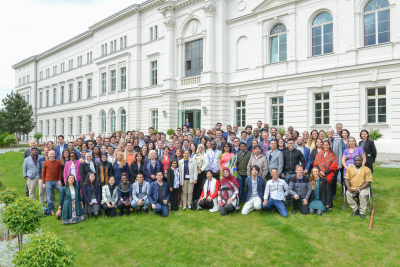 News from the Global Young Academy (GYA)
Annual General Meeting and Conference goes virtual, and other news from GYA
The rapid spread of the COVID-19 virus worldwide has resulted in a GYA Executive Committee decision not to hold the planned in-person Annual General Meeting and Conference this year in Kolkata, India.
"While we truly regret not being able to come together in person, we also believe that the spirit of the GYA cannot be defeated by such obstacles, and that it will not only stay alive and well, but even thrive!" explains a note published on the GYA website.  
"Indeed, this situation provides an opportunity for the GYA to be daring and innovative in creating new formats and to re-define what it means to work together."
An electronic Annual General Meeting for GYA members and alumni will take place from 8-12 June (the website https://agm.globalyoungacademy.net/ contains information on plans and agenda), and the 2020 International Conference of Young Scientists on the topic "Heal the Earth: Sustainable Development Goals in a Changing World" will take place as online from 29 June to 10 July 2020 (invitations and links will be available soon). All news and information on the 2020 e-AGM and e-Conference "Heal the Earth" can be found on the AGM and Conference Website.
Meanwhile, GYA has become an Affiliate Member of the International Science Council (ISC) and part of a new Open Science Global Working Group comprising members from 25 National Young Academies (NYAs) from around the globe, as well as members from the GYA's long-standing working group on Open Science.
Furthermore, GYA's Women in Science working group has also published a paper on how they cope with the demands of life in lockdown.
A lot of news from @GlobalYAcademy!

?Annual General Meeting and Conference goes virtual
?GYA is now an affiliate Member of the @ISC
?GYA's Women in Science working group has published a paper on life in lockdown

Read here▶️https://t.co/NQsWKFUtk8 pic.twitter.com/Ac3MiLbfcG

— InterAcademy Partnership (IAP) (@IAPartnership) May 22, 2020