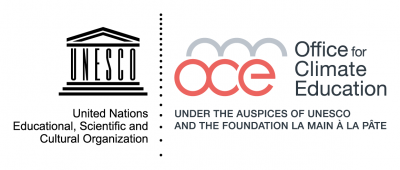 The Office for Climate Education becomes a UNESCO Category 2 Centre
The United Nations Educational, Scientific and Cultural Organization has signed an agreement with the French Ministry of Education to establish the Office for Climate Education (OCE) as a UNESCO Category 2 Centre.
Established in 2018, OCE aims to organise strengthen international cooperation among scientific bodies, NGOs and educational institutions to educate present and future generations about climate change. It also aims to equip the younger generations with tools for understanding and action, and prepare them to live in a changing world, in line with UNESCO's global programme on Education for Sustainable Development (ESD).
Unlike Category 1 institutes, Category 2 Centres are associated with UNESCO but are not legally part of the Organization. They are committed to contributing to UNESCO's strategic programme objectives, though they are funded directly by the host Member States.
"Climate change, resulting from our own behaviour, is the greatest threat to our common existence. Education is an essential tool to empower young people to take action for a more sustainable future" highlights Audrey Azoulay, Director General of UNESCO.
Climate change education is a priority for countries around the world. As evidence of this, 95% of Member States mentioned it in at least one of their most recent reports to the Secretariat of the United Nations Framework Convention on Climate Change (UNFCCC).
The establishment of OCE as a Category 2 Centre aims to promote climate change education in schools internationally, while targeting emerging countries, through four main functions:
Production of educational resources for primary and secondary school teachers
Professional development of teachers through training sessions
Structuring and facilitating a community of practice on climate change education
Outreach and information exchange.
UNESCO promotes the educational response to climate change through its Education for Sustainable Development (ESD) programme within the UN. The announcement of the partnership with OCE coincides with the launch of 'ESD for 2030', which is UNESCO's roadmap. One of its goals is to help governments fully integrate climate change education into all educational curricula and to promote lifelong learning.
"It is essential that teachers around the world have access to free, quality educational resources and professional development based on the best climate and educational research" says Eric Guilyardi, President of OCE, climatologist and lead author of the Intergovernmental Panel on Climate Change (IPCC).
Edouard Geffray, Director General of French School Education, emphasizes that "the Office for Climate Education (OCE) is an important part of the French system of research, education and awareness of environmental issues, with an international scope".
Becoming a UNESCO Category 2 Centre means that OCE joins a global network of institutions selected for their excellence in the fields of competence of the United Nations Educational, Scientific and Cultural Organization. Based on their expertise, these institutions contribute to the implementation of UNESCO's strategic priorities, objectives and programmes through international and regional cooperation, research, knowledge production, policy advice and capacity building.
The OCE was created in 2018 in order to promote a strong international cooperation between scientific organisations, education institutions and NGOs, with the aim of educating the young generations of today and tomorrow about climate change. It is a follow up of the IAP Statement on 'Climate Change and Education' (led by the Académie des sciences, France), released at the 'One Planet Summit' in Paris, France, in December 2017, held under the auspices of the President of France, Emmanuel Macron. OCE was founded in March 2018 by the foundation La main à la pâte (LAMAP), is now operative and has begun producing resources for science teachers that are aligned with the various outputs of the IPCC.
Do not miss news and updates on the activities, opportunities and events of The InterAcademy Partnership (IAP), its regional networks, member academies and other partner organisations: subscribe to our quarterly newsletter, and follow us on Twitter, LinkedIn, and Youtube.