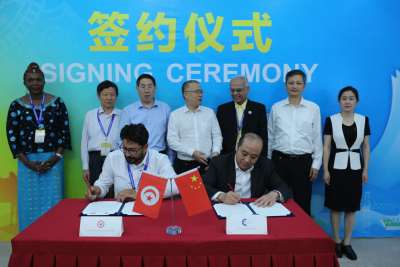 Third Belt and Road Teenager Maker Camp and Teacher Workshop
This IAP SEP-supported event took place in Nanning, China, from 24 to 30 September 2019
Strengthening cross-cultural exchange, promoting international understanding, and inspiring innovation in young generation. These were the aims of the Third Belt and Road Teenager Maker Camp & Teacher Workshop that took place in Nanning, Guangxi Zhuang Autonomous Region (China), from 24 to 30 September 2019.
The Camp was hosted by the Ministry of Science and Technology, People's Republic of China (MOST), China Association for Science & Technology (CAST) and the People's Government of Guangxi Zhuang Autonomous Region. It was organized by Children & Youth Science Centre (CYSC) of CAST, the People's Government of Guangxi Zhuang Autonomous Region and Guangxi Association for Science and Technology (GAST), and supported by InterAcademy Partnership Science Education Programme (IAP SEP), ECO Science Foundation (ECOSF) and the Network of African Science Academies (NASAC).
Teams of students, teachers, entrepreneurs and officials from 33 countries and regions joined the event. Among them, there were representation from Kenya (two teachers and five students), Tunisia (two teachers and five students), Uganda (two teachers and five students) and Zimbabwe (one student and one teacher). Students and teachers were divided into separate groups and engaged with scientific topics, then the teams developed smart projects and presented them before to the Camp's Jury.
"It was a spectacular event and most students were awarded medals in various categories" says Jackie Kado, NASAC Executive Director. "[I]t is our hope to popularized the event in Africa and have more representation next year. Our overall wish though, is to have a similar event for students and teachers in Africa," she added.
"As a scientist, I believe the second theme of this Belt and Road Teenager Maker Camp, 'Innovation for Development', is especially relevant – and also especially relevant for Science Education," said IAP President Depei Liu in his welcome speech.  
Liu stressed the fact that inquiry-based science education (IBSE) is the innovation that can improve not only science education, but education in general.
"I sincerely hope the lectures and speeches presented here will promote science and health education, and will provide new perspectives and ideas for tackling education for sustainable development in Belt and Road counties and globally" he added.
 
?‍?Inquiry-based science education #IBSE is the innovation that can improve not only #science education, but education in general. The 3rd Belt and Road Teenager Maker Camp and Teacher Workshop proved it, read ?️more about it here https://t.co/995DvIggeY #obor pic.twitter.com/fr93llgzRr

— InterAcademy Partnership (IAP) (@IAPartnership) October 18, 2019