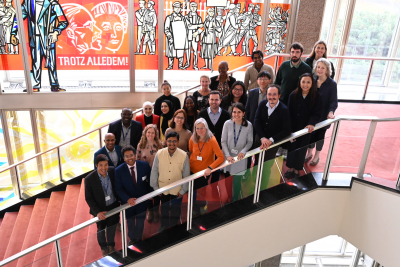 Watch the recoding of the IAP Young Physician Leaders session at the 2022 World Health Summit
Do not miss 'Effective Leaders for Effective Health Systems'
The Young Physician Leaders (YPL) programme was launched in 2011 by the InterAcademy Partnership (IAP) in conjunction with the World Health Summit (WHS) and the M8 Alliance of Academic Health Centres and Medical Universities. Since then it has trained physicians under the age of 40, equipping them with the leadership skills they will require to navigate their professional future.
To date, the YPL network of alumni includes more than 220 leading young medical professionals who were nominated by their national academies. Immediately prior to this WHS, members of the 2022 cohort were convened to reflect on the challenges faced when leading in professional situations and the very nature of what it takes to be an effective leader in the world of today. The cohort has been mentored by experts from ESMT Berlin and IAP, but perhaps most uniquely they had the chance to share and learn from each other's experiences.
During this session, members of the cohort conveyed some of the insights they have gathered over the last few days, presenting leadership challenges and successes, and interacting with the public.
The recording of the session is available here: