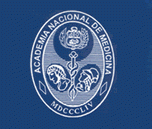 NETWORK /
National
Academy / IAP Member
Academia Nacional de Medicina del Perú
1884
Casa de Osambela y Oquendo, Jr. Conde de Superunda 298, Miraflores
The academy originally was named Sociedad de Medicina de Lima and was founded in 1854. In 1868 its activities were interrupted until October 1884, when the academy was renamed as Academia Libre de Medicina. In 1888 the Academia Libre de Medicina converted to Academia Nacional de Medicina del Perú.
As of 1996 the National Academy of Medicine, Perú has the status of national professional advisory functions. Through rigorous selection procedures, high qualified physicians are invited to join as members. Despite holding an institutional character, the academy preserves independence in its organization and functions.
Full Members are: 40 Academics per Number; 80 Associate Academics, and also Honorary, Emeritus and Correspondent Academics.